This is an archived article and the information in the article may be outdated. Please look at the time stamp on the story to see when it was last updated.
Harsh start to your morning, as wind chills lowered to -3° here in downtown…only a small improvement in temperatures is expected this afternoon with sunshine returning and not as gusty!  Here is your timeline today:
Dry weather holds through Thursday afternoon, as a massive snow storm deepens across the central Plains!  Near blizzard conditions could bring heavy snow and high winds from Kansas to South Dakota.  This storm will brush our area by Friday morning producing a mixture of sleet, freezing rain, rain and snow!  As of now 18 states out west are under some type of winter advisory or warning as this storm takes shape…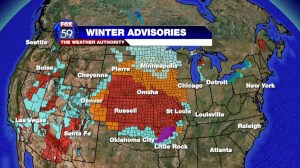 Our current thinking is that this storm will put down a mix of snow and sleet with pockets of freezing rain during Friday mornings rush hour.  This could make for a messy start but should bring improvements by the afternoon as "warmer" air works in…Snow totals will not be huge but the roads will be just as messy…stay tuned!