This is an archived article and the information in the article may be outdated. Please look at the time stamp on the story to see when it was last updated.
QUIET SPELL
A weak upper level low has departed late Wednesday afternoon paving the way to a clear night.  Clear skies and cooler temperature arrive overnight.  The lengthening September nights often bring calm and clear nights so some fog is possible early Thursday morning.  It has been 4 days since our last rain and the dry spell will likely reach 7 days.  It appears dry through Saturday and warmer as well.  The nearest front is over 1000 miles away so get out and enjoy the next several afternoons.  We may not even see a cloud in the sky.  100% sunshine is possible through Saturday afternoon.
WARMING UP
The thermometer reached the upper 70s and even a few low 80s Wednesday – the 3rd straight day of warming.  The average high has lowered to 73 degrees but 80° warmth is here to finish off the work week.  The nation is divided by a southwest to northeast flow in the jet stream.  We are on the warm side of this flow while western states brace for a chill.  Temperatures will average 10 degrees warmer than normal here while parts of Montana, Idaho, Wyoming and Colorado see snow and temperature 10 to 20 degrees below normal.
RAIN CHANCE
Enjoy dry weather until Sunday as the slow-moving front reaches Indiana.  The rain showers are expected to develop by late morning and possibly linger through the afternoon.  There is still plenty of time to revise the timing and intensity of the rain Sunday.  Areal coverage should reach 60% at the peak with an average rainfall coming in at .27″.  We will keep you updated.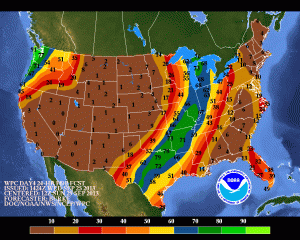 UPDATE ON WET/COOL WEATHER
Out past the 7 day forecast period there have been strong signals that a wet and cool pattern is in the works.  The overnight computer runs have pulled back considerably on the rainfall starting October 5th but that is not a surprise, often these systems are still under construction and will be refined but what is not lacking is the push of cooler air.  A break out of days 10 through 16 suggest the average high temperature will only run in the lower 50s.  Here is a  comparison of the ECMRF and U.S. GFS Model upper air forecast,  The U.S. model is more aggressive with the cool.  The rain amounts would likely follow.  More tomorrow.