This is an archived article and the information in the article may be outdated. Please look at the time stamp on the story to see when it was last updated.
A weather system is diving down in to the United States out of Canada. The system is spreading clouds over Indiana early this evening and will eventually spread snow over the state later tonight.
Light snow should begin falling shortly in western Indiana. The snow will spread east through the evening, reaching Indianapolis around 9pm. The initial burst of snow could drop a half inch to near 1″.
A second round of snow is expected to move in ahead of a cold front Monday morning, just in time for the morning commute. This will likely produce a periods of moderate snow for the morning drive to work.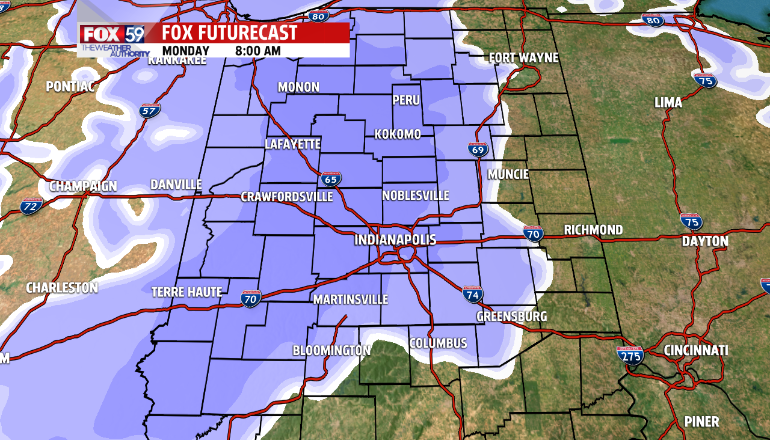 Snow will continue to fall through late morning. Around noon, computer models are suggesting the snow sharply cuts off along a line from Muncie to Indianapolis to Spencer. Areas south and east of that line will likely have a few more hours of snow.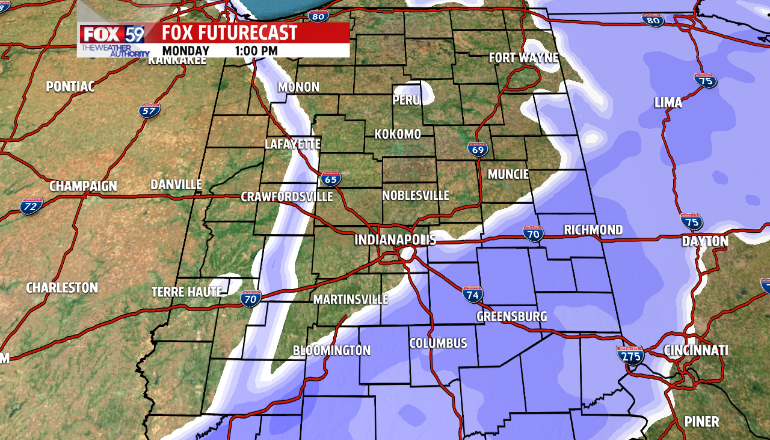 Around noon a cold front will start to enter the state. In the image above you can see the leading edge of the cold front depicted by the narrow band of snow from west of Lafayette to Terre Haute.
The front will keep moving east, passing through the Indianapolis metro between 2pm and 4pm. Once the front passes, winds will shift out of the west-northwest and temperatures should start to drop.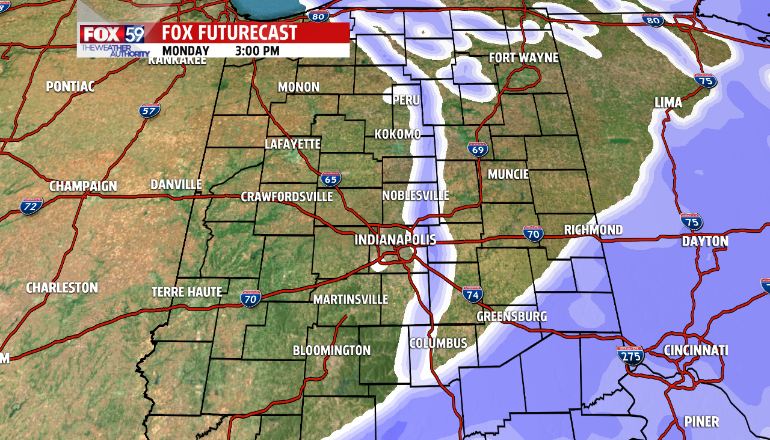 Winds will also increase with gusts over 20mph.  With the moisture content of the snow being relatively low – snow to liquid ratios will be between 15:1 and 19:1 – the wind will have the potential of dropping visibility with blowing snow for the Monday evening commute.
Speaking of commutes, here's a look at how much additional snow should be on the ground for the morning commute and how much additional snow should accumulate between the morning commute and the evening commute.
Totals around central Indiana should run mainly between 1″-3″, however there will likely be several bands of 4″ totals around central Indiana.
A 31-computer model average suggests the following snowfall totals through Monday afternoon:
Bloomington: 3.0″
Columbus: 2.4″
Indianapolis: 2.7″