This is an archived article and the information in the article may be outdated. Please look at the time stamp on the story to see when it was last updated.
You should expect mild temperatures with a rainy pattern sticking around for the next week.  Temperatures should remain at or slightly below the average for this time of the year.  Overall it looks like we will have a decent chance for rain on five of the next 7 days.
Today:
Today will be warmer than the 54 we hit yesterday for a high and should be one of the two dry days we see over the next week.  Highs should just top 60 degrees with a nice breeze coming in from the northeast at 5 – 10mph.  Skies should be partly to mostly cloudy for most of the day and should clear late.  Sunrise today is at 7:51 with the sun setting at 7:12.  The average high for today is 67°.  The average thirty year low is 46°.  The record temps for today are 86 and 26 respectively.
Sunday:
Rain chances return on Sunday with rani arriving after Noon.  Any Sunday rain should be light with rain showers moving in from the southwest.  Strong storms will be possible down to our southeast, but this will set up out of the state.
Sunday highs will be near to perhaps a degree or two warmer than today's highs.  We should be able to see a clear sunrise tomorrow, but clouds will begin to roll in as we head into the afternoon hours with rani not too far behind.  Winds should be a little stronger and will be blowing in from the southwest.  The rain that arrives on Sunday will be wrapped in warmer air that will lift up from the south.  Temps Sunday night into Monday will hardly drop at all.  We will wake up on Monday morning with much warmer and humid weather in place.
Monday storms: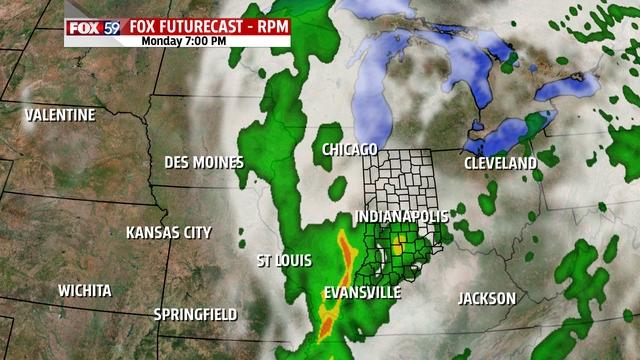 We have been included in the storm prediction center day 3 storm report.  We are currently listed as being in a slight risk for severe weather.  I talked about this potential system as early as last Wednesday with reminders that we are getting into the secondary severe weather season.  Generally strong straight line winds are the main concern during this season, but we have seen some of the largest and most destructive tornadoes in this state during these late year months.  You should certainly remain severe weather aware.
At this point any severe weather will come from a powerful low pressure area sliding in from the southwest.  This system will tilt temperatures negatively (If you look directly south you may see cooler temps just ahead of the front) and generally this brings the strongest and nastiest of weather to our area.  At this point it appears we should be read for some strong winds and hail with an isolated tornado or two.