This is an archived article and the information in the article may be outdated. Please look at the time stamp on the story to see when it was last updated.
WARMING UP
The frigid air is backing off not only here but for much of the nation.  Thursday afternoon temperatures were up 6 to 8 degrees from Wednesday and the warming trend is forecast into the weekend.  The upper air pattern for now is absent of any dips or buckles so cold air is not on the move.  The "zonal" flow – when upper air winds move from west to east across the nation is a milder one.  Friday through Sunday afternoon temperatures are likely to reach the middle to upper 40s.
COLD DECEMBER
Thursday marked the 17th day this month below normal – a month running about 2.5 degrees per day below normal.  Meteorological winter (the months of December, January and February) is off to a chilly start with 64% of the days below normal.  Enjoy the warming it will be brief – cold is set reload to close out 2013.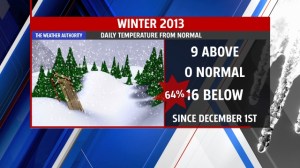 NEW COLD BLAST
Cold weather indicators are set to go negative in the next few days – a signal that arctic air will be leaving the northern latitudes, headed south.  The image below is off the U.S. model GFS showing the arctic high pressure leaving or going into a "negative" index.  When this happens cold is dislodged and on the move.  With the warming underway through Sunday the frigid air is expected to drop in starting late Sunday into Monday next week.  An arctic front will slide south of the state Monday morning bringing very cold air in to end the year and open 2014.  The current forecast for next week includes afternoon high temperatures only  in the teens Tuesday and Wednesday with a wake up temperature New Year's Day of only 3°.