This is an archived article and the information in the article may be outdated. Please look at the time stamp on the story to see when it was last updated.
We had a chilly Saturday as temperatures held in the mid 20s for most of the afternoon hours.  This was a huge departure from normal because highs this time of year should be around 41°F.  Cloud cover, spotty snow showers and a persistent northwest wind kept temperatures cool.  Clouds will start moving out this evening and this combined with light northwest winds will set up perfect radiational cooling overnight.  What does this mean?  It's about to get cold!  Temperatures should fall quickly and end up between 10-14°F by Sunday morning.  Adding in even a light wind at 5 mph would take our feels like temperature down to the single digits.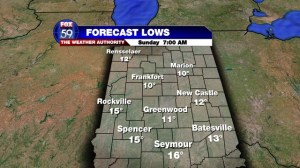 Sunday will be a cold yet quiet weather day.  Temperatures will return to the low 30s for the afternoon.  Yes, this will be an improvement to how we started the weekend but it's still below normal.  Skies will remain mostly clear under the influence of a weak ridge of high pressure.  So enjoy the ample sunshine!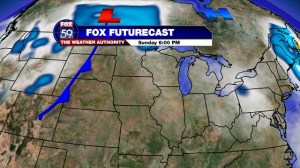 Our next low pressure system arrives on Monday as a combination of two low pressure centers.  A more defined low will be tracking along the US/Canada border but a secondary low will develop in Kansas and take a path toward Indiana.  There will be a strong push from the south on Monday in our wind.  This low level jet will provide plenty of warm air and likely take our temperatures into the upper 40s if not the 50 degree mark on Monday.  Expect rain showers to develop after noon on Monday and continue throughout the evening.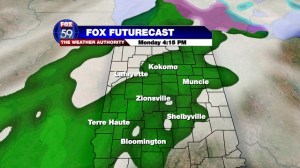 But as quickly as that warm air gets here, it will get pushed away. Cold air will drive in quickly behind the cold front and this will turn some of our rainfall into snow showers for early Tuesday morning.  The best window for snow will be after 10 PM and through 6 AM Tuesday.  As of right now, the weather models are not in agreement with how much snow we should get as this system exits.  The RPM is bringing in less than 1″ of snow on the tail end of this system, but it's something we continue to monitor.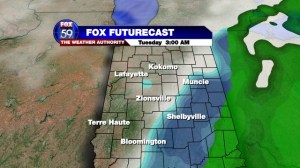 Another system will march our way on Thursday bringing in a wintry mix to Central Indiana.  At this distance out, it's too difficult to put a snowfall potential with the system.  Even after looking at the evening weather model runs, there is a vast difference on what will happen when this system arrives Thursday afternoon. Some solutions bring in freezing rain, others just rain and finally the classic wintry mix is on the table.  Once this system actually develops well off to the west, we'll be able to sample the airmass and get a better idea of what exactly we'll see.  For now, just know that we are in for an interesting week across Central Indiana.