This is an archived article and the information in the article may be outdated. Please look at the time stamp on the story to see when it was last updated.
COLDEST OF SEASON
Weekend low temperatures reached the upper 30s in the city and even colder air is arriving Monday night.  Shortly after 3 PM winds shifted and a cold front passed – marking a drastic change to the all-out Autumn weather pattern.  Through October 15th  (considered the mid-way point of Fall) 72% of the days were above normal.  Now cold air is on the move and we are headed to the coldest stretch of days below normal in 7 months.  Monday will go into the books as the 6th straight day below normal a streak that could continue for the next 7 to 10 days uninterrupted.
FROST ADVISORY
The forecast low temperature in the city is expected to dip to 35° – the coldest officially in the city since April 21st (33°) and cold enough for frost to develop.  Outlying area thermometers will certainly be colder and widespread frost is likely before sunrise.  A frost advisory is in effect from 4 AM to 9 AM Tuesday.  Several states from Wisconsin to Ohio are under frost and freeze advisories.  A portion of northern Indiana is under a freeze warning including Marion in Grant County.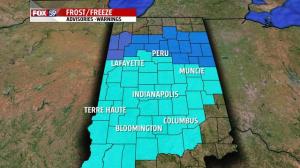 RAIN SHOWERS POSSIBLE TUESDAY
The cold, northerly flow will carry a fast-moving low pressure into the state Tuesday evening.  A "clipper" system (named for fast moving ships that sailed the Atlantic in the 1800s) brings a quick shot of precipitation with it and currently we time this system into the area later Tuesday afternoon departing very early Wednesday morning.  Rainfall amounts will be light – with the average of 7 computer generating .16" of rainfall here.  Parts of Iowa and far northwest Illinois could see some accumulating snow with this system Tuesday night on the colder north side of the low.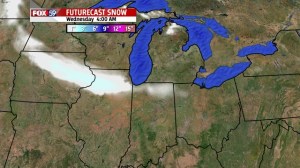 Forecast Snow Accumulation
PATTERN CHANGE
Warmth is racing north along the west coast of the continent and headed north into Alaska.  The buckle created in the jet stream forces cold air south from Canada and plunges into the eastern half of the nation.  There e are strong signals that a blocking patter in the upper levels has developed and may be locking in for quite some time.  While a few days are still likely to warm back to near normal levels the cold could reload again to open the month of November.  Here is a break out of forecast high temperatures over the next 16 days.  Note the big cold push again out at days 11-16.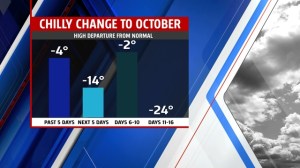 High temperature from normal
QUIET WEATHER INTO THE WEEKEND
There will be one more shot at light rain with another clipper system Thursday then the skies brighten Friday with sunny weather expected for the weekend.  A gradual warm up will get underway with high temperatures recovering to the 60 degree mark again by Monday.