This is an archived article and the information in the article may be outdated. Please look at the time stamp on the story to see when it was last updated.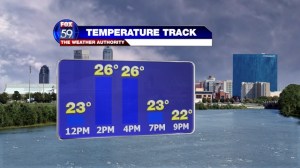 Despite our quiet forecast today, a much more significant winter storm will begin impacting the Great Plains and Midwest starting today and really ramping up on Thursday.  It's early Friday morning that the system comes into Central Indiana. Here's a look at all the winter weather advisories to our west.  Snow is already falling today in Kansas, Oklahoma, Nebraska and Missouri.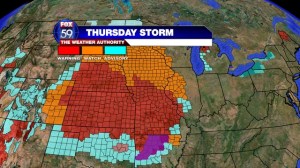 While locations to our west will see more snow out of this event than anything, we in Central Indiana have to talk about the dreaded wintry mix.  This system will start arriving late Thursday afternoon and evening in our southwestern counties.  The majority of the activity will happen in the overnight hours going into Friday.  As it stands right now, we will see periods of snow, sleet and freezing rain before this turns over to a light drizzle on Friday.  The best chance for snowfall accumulations will be north of I-70 and especially in our northwestern locations.  That's where a few inches of snow and sleet should accumulate.  It's from I-70 and to the south that snowfall amounts will be lower. That's where we'll see a smaller window for snow and a better chance for rain with periods of sleet/freezing rain.  All locations in Central Indiana have a chance for sleet and freezing rain as this system moves through Friday morning.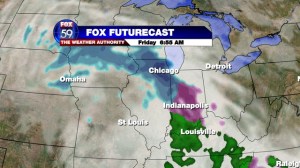 But I cannot state this clearly and loudly enough today…. THIS WILL CHANGE!  Now that the system has finally formed to our west, the data being gathered is about to get significantly more reliable.  What this means is when the afternoon numbers come in, we'll be putting more storm totals regarding snowfall and ice for Central Indiana.  So be sure to tune in starting at 4 PM for everything you need to know about this wintry mix system headed into Indiana before the week ends. See you soon!