This is an archived article and the information in the article may be outdated. Please look at the time stamp on the story to see when it was last updated.
BIG TEMPERATURE DROP
Just what you wanted – a return to March!  A big cool off this afternoon with 56° at 3 PM – the normal for late March.  Temperatures have cooled 14 degrees from the same time Tuesday and off  the high of 80° by 24 degrees.  The normal high for this time of the year is 72°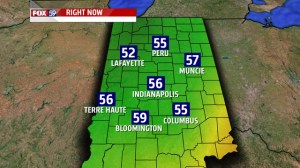 COLD AND DAMP REST OF WEEK
The cool weather will hold as an upper low lingers for the next several days.  Rain chances come along with the cool, but likely to be much more scattered Thursday and Friday.  Dry time / rain free hours are likely the next 3 days but the chance of showers will grow during late morning and early afternoon hours Thursday, Friday and even Saturday as the heating of the day activates showers.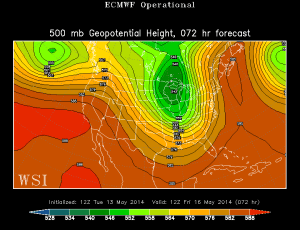 SEVERE STORM THREAT
A lull in the rain right now for most but it fills in and increases later this evening. Some storms are possible over SE and far East Indiana and they may turn severe – we are watching for the possibility that a few storms would spin and produce a tornado.  Low pressure riding north overnight bill strengthen and produce enough spin in the atmosphere that a few storms could spin up a tornado.  

Currently tornado watches are in effect over the far SE corner of the state.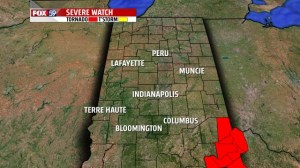 A few storms could migrate north as the low pressure moves up later this evening and early tonight. Chances for a severe, tornado producing storm seem best from 4 pm to 8 PM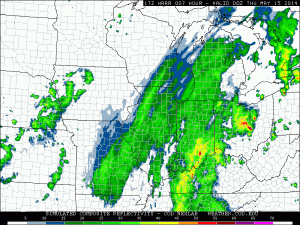 HEAVY RAINFALL POSSIBLE
Storm brings healthy rains with it – off 7 computers the average rainfall for the city 1.29″ but locally higher amounts in and around t-storms are likely. Flood watches/warnings for rivers and streams hoisted while advisory for locally heavy rainfall (flash flood watches) have also been posted.