This is an archived article and the information in the article may be outdated. Please look at the time stamp on the story to see when it was last updated.
Central Indiana has enjoyed another beautiful day this weekend and today was the perfect way to usher in the fall season.  Temperatures climbed slowly into the upper 60s this afternoon with ample sunshine and light northeast winds.   We will continue to see clear conditions tonight and this will allow the temperature to fall quickly again.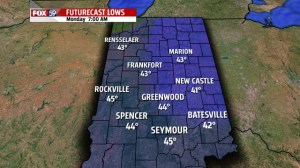 Indianapolis should fall to 47°F while some of the outlying areas could hit the low 40s, especially in northeastern and eastern Indiana.  These locations are closer to the core of cool air from the Canadian high pressure system that moved in today.
We will see ample sunshine to start off the work week and slightly warmer temperatures.  Winds should still stay east bound tomorrow, so we won't have an extra push of warm air during the day to give our temperatures a quick fix.  But we will see a small increase with highs closer to the mid to low 70s.  Normal this time of year is 75° so we are in the ballpark tomorrow for sure.  We aren't looking at high humidity levels again either so it remains refreshing outside.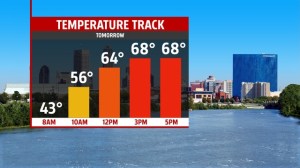 The biggest blip on the radar to possibly bring in rain this week comes in Tuesday night and early Wednesday morning.  A weak center of low pressure will be coming out of the Great Plains Tuesday evening.  It will cause clouds to increase during the day Tuesday and dew points to rise as well.  But as it gets here, it's losing a lot of the upper level support and we'll be lucky to see much on radar.  Some of the models don't predict any rain out of this system while a few others pick up a few one hundredths of an inch.  So there's definitely something headed our way but don't expect much rain to materialize out of this.  After this minor low pressure system passes, clouds will decrease again and temperatures will start to build.  We should get back to the low 80s by Thursday with mostly sunny skies.  But this isn't going to be terribly hot and humid.  This will bring in a few day stretch of temperatures ranging from 81-83° as we start the weekend.  This will put us a good 5-8 degrees above normal for this time of year.  But with rain returning late Saturday night and Sunday morning, the heat won't last long!