This is an archived article and the information in the article may be outdated. Please look at the time stamp on the story to see when it was last updated.
ANOTHER CHILLY NIGHT
Early morning low temperatures were more like early April than June Monday morning.  The official low hit 48° in the city, the normal for May 1. Parts of northern Indiana fell into the 30's, though.  South Bend and La Porte dipped to 39° while Michigan City fell to 36°.
The chilly 40's in June are not that infrequent. In fact, there was one night in the 40's last June.  A scan of weather records over the past 17 years shows six Junes have produced at least one 40° night but multiple nights in 40's? Now that is a little more rare.  The forecast overnight will once again bring a low just under 50° making this only the 3rd June to have a multi-night low in the 40's since 1996.
June 2003 had four nights with a record low of 39° on the June 2. June 2000 had two nights in the 40's: June 6 and June 7.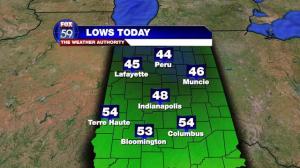 COOL STRETCH COMING
Two-week temperature forecasts suggest we may save a few bucks on the air conditioning. The latest 8-14 day outlook from the NWS shows a high likelihood of colder than normal temps over the eastern half of the nation.
The upper air flow will be dominated by a northwest to southeast wind flow.  This "northwest" flow will typically keep summer hot domes from expanding north and east while tapping cooler air from Canada as fast-moving systems ride the winds.
Here is the break out over the next 2.5 weeks:
DAYS 1-5: -5°
DAYS 6-10: -9°
DAYS 11-16: -8°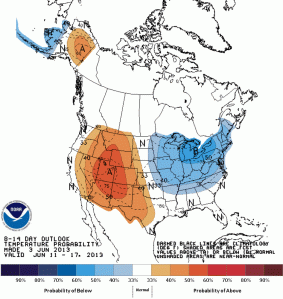 QUIET NATION FOR NOW
Severe weather, while not completely absent today, has been fairly tame.  Through 5 p.m., there have been no severe weather reports – the first time in three weeks with a day lacking severe reports.  The last time there were fewer than 10 severe weather reports came May 12 with a total of two.
BREAK FROM THE RAIN
The wet weather holds off for now but rain chances will return by mid-week.  Showers are expected to return with a chance of storms by Wednesday.  Showers are possible through Friday and expected again Sunday and Monday.  Seven-Day rainfall numbers are low only averaging  .39″ and the 2.5 week rainfall forecast continues that trend at only 1.23″ forecast ONLY 54 percent the normal.