This is an archived article and the information in the article may be outdated. Please look at the time stamp on the story to see when it was last updated.
For those of you that love the fall, this weekend has truly been a delight.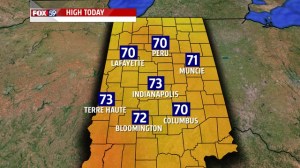 Temperatures only made it into the low 70s this afternoon under partly cloudy skies and light winds.  We should normally top out around 75° this time of year so we are getting to experience the season for once.  Speaking of the fall season, it's just about official!  We start Fall at 4:44 PM Sunday.
First, let's talk about what's happening tonight.  Under mainly clear skies and low dew points, temperatures will slide quickly overnight.  We should see temperatures dip into the mid 40s outside of Indianapolis and closer to 47° here in the metro.  The one exception would be our northwestern counties where a few clouds are coming in off of Lake Michigan tonight.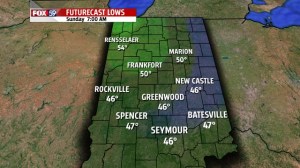 That will keep overnight lows a little bit warmer in locations like Lafayette, Frankfort, Logansport, Kokomo and Peru.  But you'll still get down to 50° which is still nice and cool.
The clouds in our western locations will be around to start the day on Sunday but they won't last long.  Skies become mostly clear by noon and turn nearly perfectly clear Sunday afternoon.  Temperatures will be a little bit cooler on Sunday afternoon with highs around 69°.  We'll see a steady wind from the northeast and this will help move in slightly cooler air and continued dry air.  This will leave us a good 5-7° below normal for this time of year.  A ridge of Canadian high pressure is coming in on Sunday and this will be around for a couple of days.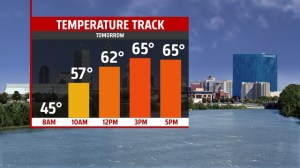 Monday will be another beautiful day in Central Indiana with sunny skies and comfortable temperatures again.  We should only climb into the low 70s and winds will remain light from the East at 3-5 mph.  Temperatures slowly climb throughout the week and we'll get back into the mid to low 80s by Thursday.