This is an archived article and the information in the article may be outdated. Please look at the time stamp on the story to see when it was last updated.
(July 17, 2014) - The cool weather continues across the state with yesterday being day 15 in a row with temperatures failing to top the average high of 85 degrees for this time of the year. The cool snap will slowly ease as we head into the weekend with highs creeping back into the 80s. Highs today will be in the mid-70s. Friday highs will be near 80 degrees and 80 will be possible. Officially we are forecasting a high of 79.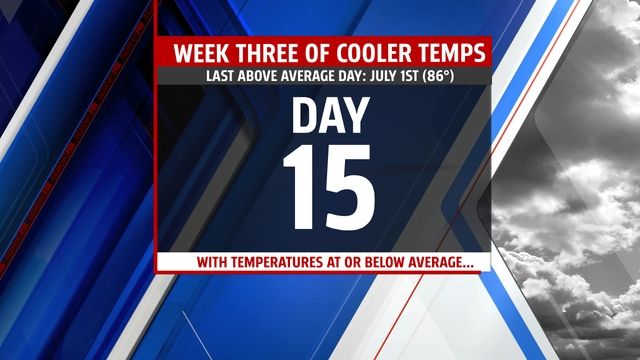 Saturday and Sunday should see highs in the low 80s with a small chance for rain on Sunday. Rain chances have really been pushed back by the latest model runs. This is partly due to a mid-level low that is now expected to track well south of the state. There was some concern over the previous couple of days that the track could have taken the low directly over the state bringing with it a chance for rain. With the track now expected to stay well south of our area our rain chances are dropping significantly for the weekend.
Monday will be the next time we will have a decent shot at hitting the average high for this time of the year. Highs on Monday through Wednesday are expected to hit the mid-80s with a small chance for an afternoon shower or two. Enjoy your day!