This is an archived article and the information in the article may be outdated. Please look at the time stamp on the story to see when it was last updated.
(Oct. 29, 2014) – No one ever wishes for a white Halloween but it looks like we will see at least a little bit of snow on Halloween this year.  Trick-or-treating will be chilly with temperatures likely near 40 degrees from 6 – 8 p.m.  Model numbers coming in show us receiving about a tenth to a fifth of an inch of rain/snow throughout the day on Friday with most of it falling as rain.  Snow will be disappearing on contact with the ground.
Today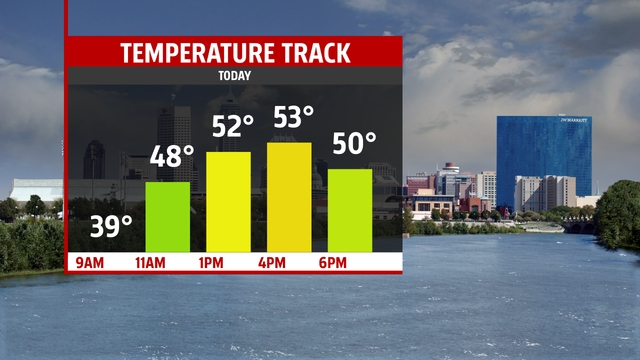 Cooler air is settling in today with skies turning clear this afternoon.  While I am a little concerned with an inversion developing, prolonging our cloud cover, skies should be clear for the afternoon.  We are already seeing the cloud deck lifting to our northwest and that cloud line will continue to move to the southeast this morning.  Temperatures are 25 degrees cooler than 24 hours ago as we start the day.
Highs today should hit the mid-50s with high pressure rolling in.  High pressure will stick around through Thursday keeping the skies clear.  We have not seen any hints of fog at 5 a.m. but as skies clear it is something we will monitor.  Winds are coming in out of the WSW at 7 mph.
Halloween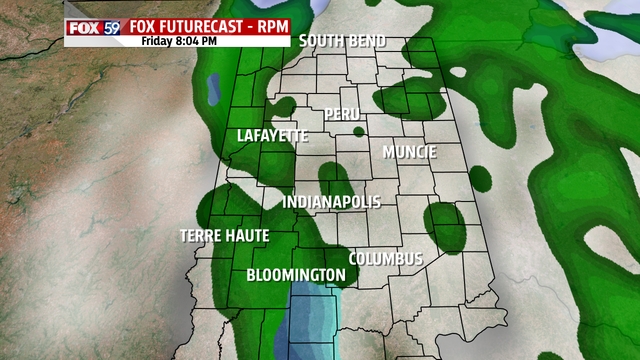 Yes, our first snow of the season will likely occur on Halloween.   The entire day on Friday will be soggy with rain showers turning into snow as we head into the afternoon and evening hours.  Friday highs will likely only hit the mid-40s with most of the day spent at or just shy of 40 degrees.
At this point it looks like as we head into the late afternoon hours any rain showers will start to change over to a mix of rain and snow.  I think by 5 p.m. that nearly everything falling will be snow even though it should be melting upon impact on the ground.  I think after 7 p.m. we may actually see some ground turning white as snow continues to fall.  Clearly no accumulation will occur but we could see plenty of snow falling.  This will continue through midnight.
The rest of the weekend
Saturday will be dry but chilly with highs in the mid to upper 40s.  We will be slightly warmer on Sunday with highs in the 50s.  Both Saturday and Sunday should remain dry with plenty of sunshine around for both.