This is an archived article and the information in the article may be outdated. Please look at the time stamp on the story to see when it was last updated.
OCTOBER-LIKE
Fast forward to Fall!  Yes, it is still summer but this afternoon is more typical for a late October day!  Temperatures are down in the wake of an early morning cold front as much as 20 degrees in some locations and the humidity has been wiped away. The dew point has also dropped as we import air from Canada.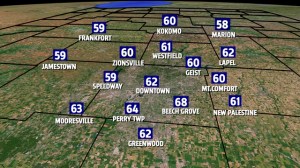 It is the coolest September 11th afternoon here in 71 years! What a difference one year makes. Last year on this date we topped 95°, a record for the date and the final 90 of the season.
Clouds are holding on during the overnight hours so while it will be cool, we will not fall to far from the normal of 58°.
EVEN COOLER
Reinforcing cool air is on the way when a second cold front passes late Friday night into early Saturday morning. This front offers a small chance of showers but will also deliver even cooler air – low well into the 40s by Saturday and Sunday morning.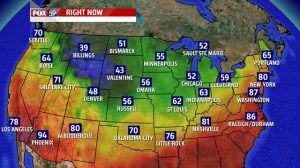 Sunny skies will return for the weekend after some clouds early Saturday. A slight warm up gets underway next week – and at this distance some beautiful days are coming! Check back later for my updated 7 day forecast.
NORTHERN LIGHTS HERE?
Two large solar flares are headed to earth and are expected to igniting the northern lights starting tonight and weather permitting, may be visible as far south as northern Indiana.  The CME (coronal mass ejections) are strong enough to create a minor aurora storm.  Charged  particles make contact with the earths magnetic field and the lights appear. The 'northern lights occur about 55 miles above the earth and are frequently observed in the higher latitudes of the planet.  The stronger the storm the better the chance is to see them here.  Rated 5 on a scale of 0-9 we have a slim chance of seeing them on the northern horizon Saturday night.