This is an archived article and the information in the article may be outdated. Please look at the time stamp on the story to see when it was last updated.
(July 17, 2014)  So far this summer…we have yet to report a 90° day officially in the city of Indianapolis. Indeed, it has been very cool with 67% of the summer running below average. Many have asked if this had ever happened before in a summer for Indianapolis. The answer is yes, but only one time back in 2004!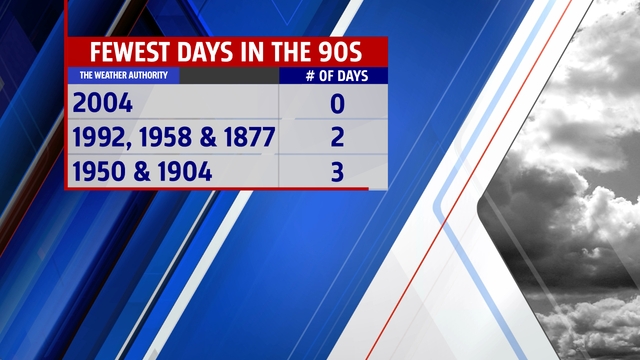 Granted, we are only halfway through this summer and if you have been around here long enough, you know that August and September can be brutally hot in the Midwest!  With that said, if no 90s show for this summer, does this mean a cold winter ahead?  I wanted to compare the following winter that we had after the cool summer of 2004.  This is  just to see if there was a "rough" correlation…not very scientific but more of a curiosity!
Here are the stats for the meteorological months of winter that followed the "cool" summer of 2004:
December of 2004 did bring plenty of snow (13.1″) but temperatures were not harsh, in fact, slightly above average temperatures at 0.2° were reported for the entire month…
January of 2005 remained quite active with many days of rain AND snow.  10.7″ of snow total for the month but temperature averages went way up with the month running 4.2° above average…
February of 2005 continued with a warming trend pushing our monthly average temperatures to 5.1° above normal with little snow totals, coming in at a lowly 2.5″…
In my "not-so-scientific" comparison there is little that shows that a cool summer means a brutal winter…snowy possibly but nothing over the top cold!
Only time will tell…thanks for reading and enjoy the pleasant summer weather!