This is an archived article and the information in the article may be outdated. Please look at the time stamp on the story to see when it was last updated.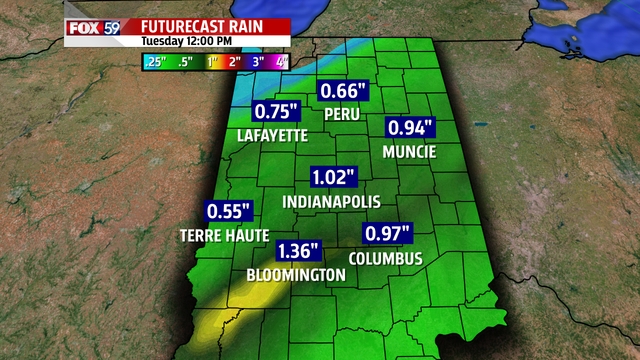 More rain expected Monday but it appears that any severe weather and heavy rain should remain to our southeast.  Rain chances in my mind are actually down today when compared to the weekend.  Model numbers for rain haven't changed, but QPF (rain) numbers coming out over the weekend didn't mesh with other numbers model data was showing.  That has changed this morning.
One of the problems I had with this weekend's forecast was the presence of warmer air filtering in from this gulf low that will pass us by today.  In fact, the low will move right over central Indiana throughout the day today, bringing with it our chance for rain.  The upper low is becoming occluded, meaning that cold air has wrapped entirely around the system, which means there is no warm sector immediately south of the system.  The cold air hasn't completely wrapped around the system to our southeast (see picture to the side) and this is an area where they are seeing severe weather breaking out.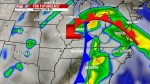 If we had have seen this warmer sector passing through the environment, it would have been set up for another large rain event.  This gulf low is riding the Subtropical Jet Stream and is beginning to merge with the Arctic Jet.  This is generally a recipe for severe weather and heavy rain just north of any steering boundaries.  That is basically where we are.  That being said, we can still expect to see about an inch of rain (model data is averaging around 0.75") throughout the day today with the best chance for rain during the afternoon hours.  Rain should be light and we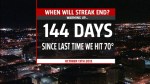 may hear a few rumbles of thunder.  Overall, thunderstorms will be possible, but we only expect an isolated chance of any developing.  Severe weather is not expected.
Today's high will be in the mid- to low-50s.  We started the day with temps dropping to just the mid-40s.  A small chance for rain will stick around through Tuesday afternoon with Tuesday highs in the mid 50s.  Wednesday highs will also be in the mid-50s but will likely be a degree or two warmer than Tuesday's high.  We should be dry on Wednesday.
It's been 144 days since the last time Indianapolis hit the 70s (Oct. 13).  I think the streak is broken this week with highs likely hitting 70 on Thursday.  If not Thursday we will have a couple more chances over the weekend to break the streak.  Here's to warmer days ahead.  Enjoy your day!