This is an archived article and the information in the article may be outdated. Please look at the time stamp on the story to see when it was last updated.
INDIANAPOLIS, Ind. (Jan. 1, 2015)–It will be a cold night ahead with low temperatures in the low 20s. We'll have a partly cloudy sky with decreasing winds. Temperatures at 5 p.m. were in the upper 20s north and low 30s across central and southern Indiana.
Breezy west, southwest winds 10-20 mph have been making it feel like the teens and low 20s Thursday evening so make sure to bundle up if you're heading out.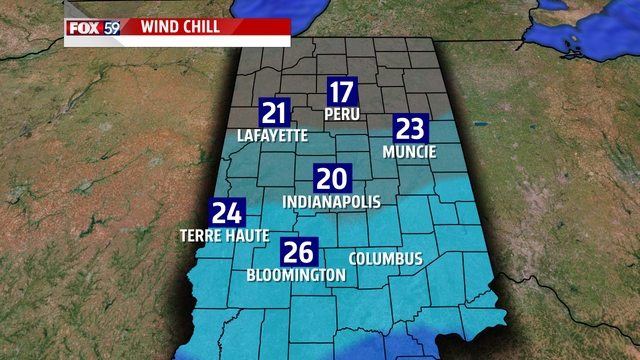 Friday will bring mid and high clouds with highs in the mid-30s across central Indiana. Expect mostly cloudy skies along and south of I-70 while northern Indiana sees sunshine.
Saturday morning, temperatures will be just below freezing for a few hours near and shortly after sunrise (8:07 a.m.). With moisture moving in, there may be freezing drizzle or freezing rain around making for some slick spots, especially on bridges and overpasses. Temperatures will quickly warm above freezing by late morning and rain is likely during the rest of the day. Rainfall totals of up to one inch are possible in the city. A cold front moves in by Sunday and there's a chance of snow. Temperatures will also be in the low 40s at midnight Sunday and will fall so do expect colder air Sunday afternoon.
Another chance of snow arrives Tuesday and single-digit low temperatures are forecast by Wednesday morning.