This is an archived article and the information in the article may be outdated. Please look at the time stamp on the story to see when it was last updated.
Central Indiana continues to see above normal temperatures this weekend and the dry weather will also continue for several more days. We are already 6 days without rain in Indianapolis and we'll at least tack on 4 more before rain returns Thursday night.
TONIGHT:
Skies remain mostly clear overnight and temperatures will be a few degrees warmer yet again. Lows should fall to 58° here in the metro but into the mid 50s outside the city.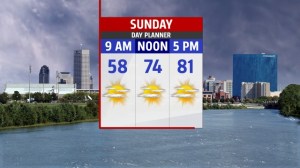 SUNDAY:
The beautiful weather continues into Sunday's forecast with mostly sunny skies and light winds. Dew points will remain in the mid 50s on Sunday which will be a repeat of how "sticky" it felt on Saturday. While it wasn't overly humid outside, you can tell the air isn't as dry as it was earlier this week. High pressure is still directly influencing our forecast and keeping things quiet.
RAIN RETURNS: We are going to get through a large chunk of the work week without rainfall. Monday, Tuesday and Wednesday all look to be dry here in central Indiana with highs ranging from 77-81°F. Clouds will increase a bit more on Thursday and winds will pick up from the south at 10 to 20 mph. This is all in advance of an approaching cold front. This will be the first chance of rain this area has seen in 10 days. Showers and storms should arrive Thursday night and continue on Friday with mostly cloudy skies. The front will bring in cooler air too. Highs on Friday will only top out in the mid 70s. The real shock to the system comes on Saturday when highs only climb into the low to mid 60s!