This is an archived article and the information in the article may be outdated. Please look at the time stamp on the story to see when it was last updated.
DRY TIME
Dry weather is ending late Friday night as showers emerge over southern Indiana late in the day.  Rainfall will likely become more widespread approaching the midnight time frame and late night through early Saturday morning there will be more downpours and possibly a few t-storms.  I'm posting the forecast radar at 7 AM Saturday below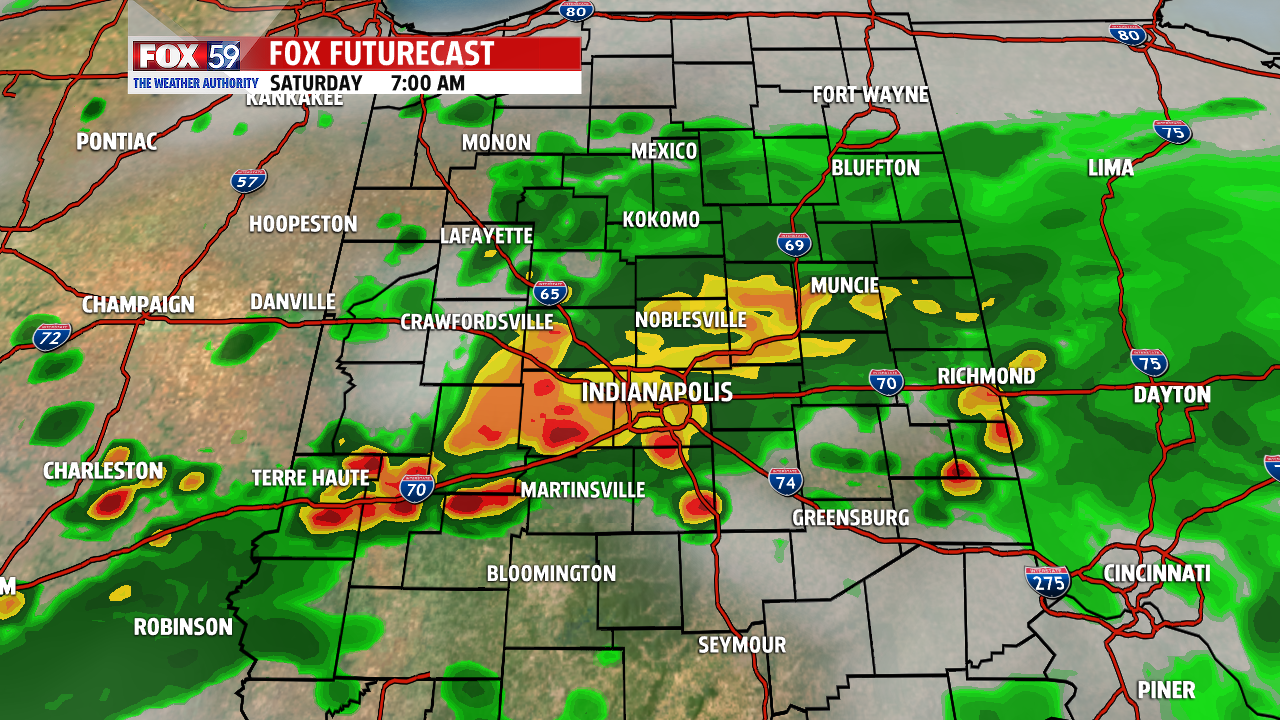 A warm front is lifting north late tonight and bringing back the very humid air.  The break was brief, dew points late Friday only rain in the low to mid 50s but increase toward sunrise.  because the air Saturday will be more moist, the chance of heavy downpours and healthy rainfall totals looks high.
RAINFALL
Off 6 computers, the average rainfall for Indianapolis is about 1"  The spread runs from .66" to 1.19".  Convection, or thunderstorms will offer locally higher totals.
ALL DAY RAIN?
It is a time of the year where all day rains are hard to come by but Saturday will be soggy.  The gaps of rain free hours may be small but will exist.  Rainfall coverage will peak before noon and again later in the day.  Showers will diminsh in cover age late Saturday into early Sunday morning.
COOLER SPELL
A stretch of 11 consecutive days above normal, 8 straight of 80° or higher and the first 3 days of a June to open at 80° or higher in 5 years, is coming to an end.  Rain cooled air Saturday will keep temps mainly in the lower 70s and the cooler pattern locks in for much of next week.  Several days starting Saturday and through Wednesday are likely to remain below 70 degrees.  A few early morning lows may dip below 50° Tuesday and Wednesday in outlying locations.