This is an archived article and the information in the article may be outdated. Please look at the time stamp on the story to see when it was last updated.
Watch out for slick spots this morning.  While the overnight hours were dry the city recorded more than an inch of rain on Saturday and late Friday.  Any moisture rolling across roads has frozen this morning and will turn slick.  I personally witnessed a couple of spots along I-465 this morning that were slick including the highway ramp from I-69 southbound onto 465 west bound.  Roads are untreated at this time.  They likely will remain that way through Monday when the city will see their next rain chance.
Temperatures are all over the place:
The wild temperature ride continues for today.  Clouds and winds out of the northeast will make it tough to hit the 40s.  This weather pattern over the last 5 days has tied model data up in knots.  Today is not different with model data forecasting cooler afternoon temperatures than yesterday even with 850mb temps at 5c.  This trend of temperatures and conditions not exactly lining up will continue throughout most of the next week.  That being said I have come up with a forecast that I think reflects the overall trend of the weather.  I think it will be pretty accurate but this is not an easy forecast.
For today I am going with a high of 42 degrees.  I have it as the warmest day of the next four.  This is something that model output numbers don't agree with, but I think the numbers behind those numbers do agree with.  Model data yesterday had us hitting the 40s again in the afternoon even behind a nice powerful front.  This weather pattern is playing havoc on model output.
Today: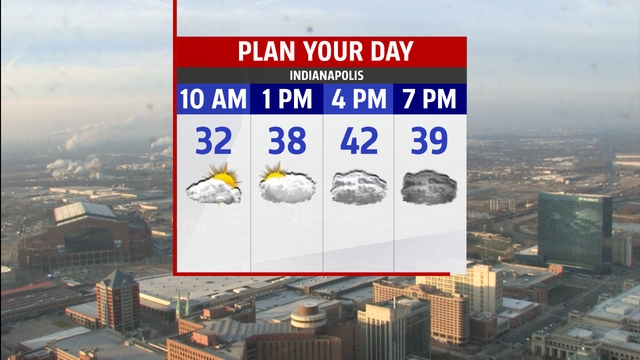 Skies cloud up as we head into the afternoon.  Highs today should hit the 40s even with the clouds and winds out of the northeast.  Morning lows should fall to the mid-20s.  The average high for today is just 41° and I am forecasting a high of 42 so I am expecting a seasonal day.  Temperatures into the overnight hours won't drop as much as this morning with the clouds around.  Also we begin to get some moisture building in so dew points won't be as dry as this morning.
Monday and Tuesday forecast:
Most of Monday will be dry, but we are forecasting scattered rain for the end of the day.  The best chance for rain will be off to the northwest as a front moves in.  Rain, sleet and snow chances will continue throughout the day on Tuesday.
At this point the timing of a changeover from rain to a wintry mix is a difficult one.  Looking at data coming in it is clear there will be a very shallow layer of above freezing warm air at the surface with freezing temperatures setting up about 500 feet above the surface.  This does not give moisture that will be snow, sleet or graupel a lot of time to melt before hitting the ground.  Don't forget as it falls it is cooling, we call this the wet bulb temperature and that is going to basically going to be at the freezing mark even at the surface.  I think we could see a wintry mix shortly after rain arrives during the afternoon hours.  Thankfully surface temperatures are still expected to remain just above freezing for the most part limiting road concerns.  Slick spots will be possible but we are not expecting widespread issues right now as long as temperatures remain above freezing.
Monday highs should hit the upper 30s to near 40.  Tuesday highs should be in the mid-30s.  Both mornings will see morning lows near the freezing mark.