This is an archived article and the information in the article may be outdated. Please look at the time stamp on the story to see when it was last updated.
Yes, that headline is correct.  We wish it wasn't!  Temperatures have been running significantly colder across our state today and the cool down is far from over.  At noon, the cold front passed the city of Indianapolis and with northwest winds taking over, cold air is moving in a bit more aggressively. Here's a look at what you can expect for the rest of this evening and when we will change over to snowfall.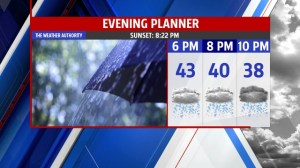 Monday Afternoon/Evening
Temperatures will continue to fall this afternoon, instead of rising like they usually do.  We'll be in the mid to low 40s by 6 PM with spotty showers or drizzle still persisting.  Temperatures drop closer to 40°F by 8 PM here in the metro, but even colder to our northwest.  Lafayette, Logansport & Peru will have already dropped into the mid 30s by this time.  But wait, the cool down hits a critical point by 10 PM.  The city won't be below freezing by that time, but portions of northwestern Indiana will make it down to this crucial temperature and snow will start showing up on the radar.
Switch from rain to snow slide show: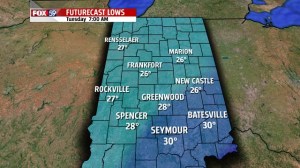 Monday Night
As you can see in the slide show above, rain will switch to snow in the overnight hours and get a bit more organized in our eastern counties before it moves out of the state.  Overall, accumulating snowfall is not expected, especially from Indianapolis and to the west.  We could get some trace amounts of snow east of the metro due to the more consistent snow showers between 2-5 AM.  But this would not last long if it did manage to give us a light coating on the ground.  The ground is wet from all the rain today and soil temperatures are warm, so this will help melt anything that does fall as snow overnight.  By the time we wake up in the morning, more than likely any signs that it snowed overnight would be gone already.  Temperatures fall into the upper 20s and low 30s by Tuesday morning.
Tuesday
Tuesday's forecast will be a step back to more winter like temperatures and conditions here in central Indiana.  Skies remain mostly cloudy throughout the day and temperatures are only expected to increase into the mid to low 40s across the state.  Stating the obviously, this is a stark contrast from the weekend we just experienced. This will leave us 30 degrees colder across the state from what we saw for highs on Saturday and Sunday.
Temperatures will drop Tuesday night into Wednesday morning well below the freezing mark.  This will prompt a hard freeze across the state.  It is not advised to plant more sensitive vegetation at this time of the year because cold nights like this are very possible.  But in the southern part of our state, hard freezes are less likely.  With temperatures expected to drop so cold going into Wednesday morning, a freeze watch has been issued from midnight until 10 AM for our very southern counties.  The rest of central Indiana will be just as cold but you will not see freeze watches or warnings issued.  Again, the more central and northern parts of the state should not plant flowers or garden plants this early because temperatures are not suitable yet.
April 14 and these are cars in the @fox59 parking lot. Say it ain't SNOW! pic.twitter.com/HBwieNHG0Y

— Kendall Downing (@kendall_downing) April 15, 2014