This is an archived article and the information in the article may be outdated. Please look at the time stamp on the story to see when it was last updated.
COLD RETURNS
We've crammed two seasons into one day! An early high (around midnight of 61°) has dropped into the 30s along with brisk winds. It certainly feels more like February this evening.
Temperatures combined with the winds makes it feel nearly 40 degrees colder from the dame time yesterday!
DRY SLOT
Early in the day - clear skies where overhead - in a region of the storm called the 'dry slot'. That wedge of dry air is in the region of the storm (same one that produced blizzard conditions north and tornadoes south) where the strongest jet stream winds roar overhead. Now that he storm is moving on off to the east, the clouds and colder air are moving in.
Look for a few snow showers at times overnight. The temperatures will drop into the lower 20s by early Thursday morning with a wind chill in the teens.
WARM WINTER
The cold will sting after a stretch of 10 straight days of above normal temperatures. 3 of the past four days have topped 60° and elevated the average temperature for the winter back to 10th warmest on record. Also, this winter has produced the most 50° or higher dates in 83 years. 27 days have topped 50° or higher since December 1st!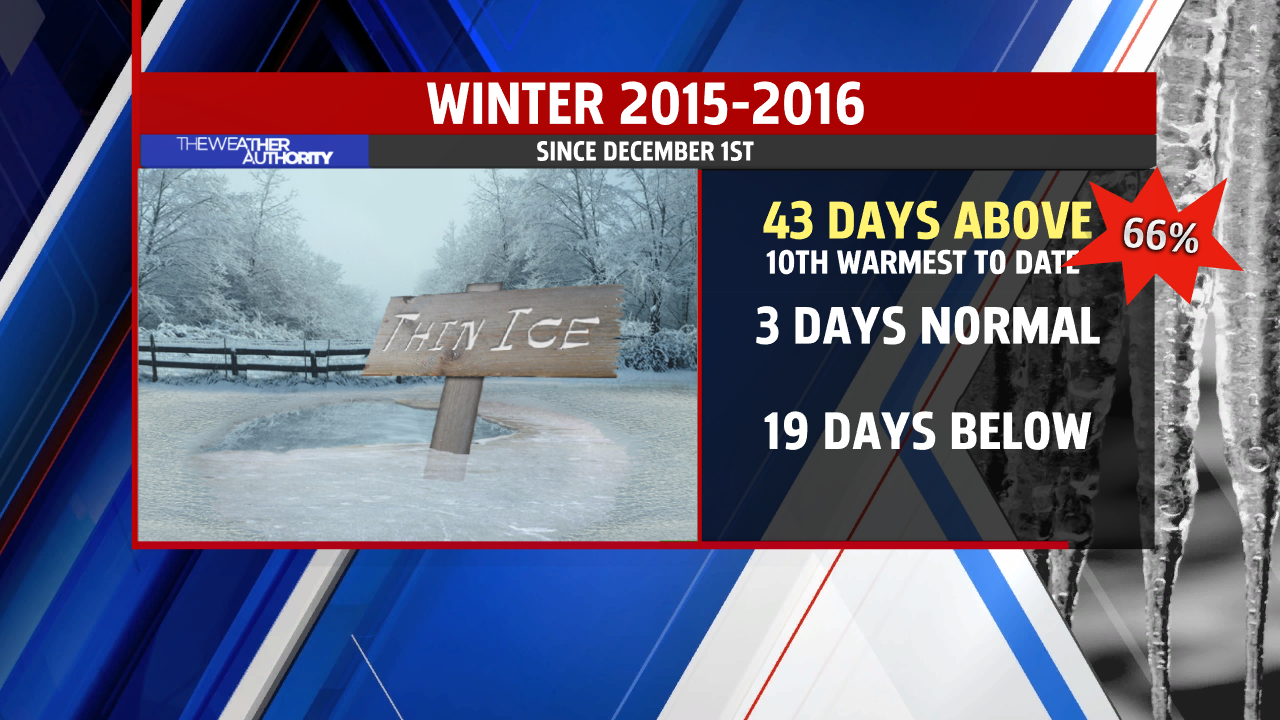 PATTERN CHANGE - COLD STAGES COMEBACK
A quieter stretch of weather to end the work week and for the weekend however, a much colder pattern is still on track to take hold next week. Temperatures that are well below average are predicted and could last well into the Valentine's Day weekend.
Snow often follows the cold, details on snow accumulation will become more apparent in the days ahead.