This is an archived article and the information in the article may be outdated. Please look at the time stamp on the story to see when it was last updated.
WET AT TIMES THIS WEEKEND
We've had back to back beautiful weekends, but the final Saturday of April looks soggy.  Rain makes its return initially as some light rain or sprinkles overnight. The rain will increase in coverage Saturday. Will there be dry time? The answer is yes. There will be rain-free hours and gaps but rather limited on Saturday - the 'drier' of the two days looks now to be on Sunday.
A final round of April showers spreads northeast form southern Indiana as we reach 9 AM Saturday. The rain coverage and intensity will increase by noon area-wide.
Showers may scatter and lift northeast by mid afternoon. I'm posting the percent of coverage of the rain Saturday nearing 100% of the area between noon and 2 PM.
Sunday will offer up more dry time and extended rain free hours as May begins, the final month of 'spring'. Below is the latest 2 PM RPM model satellite/radar forecast. Looks like the rain-free hours will be more plentiful for the second half of the weekend.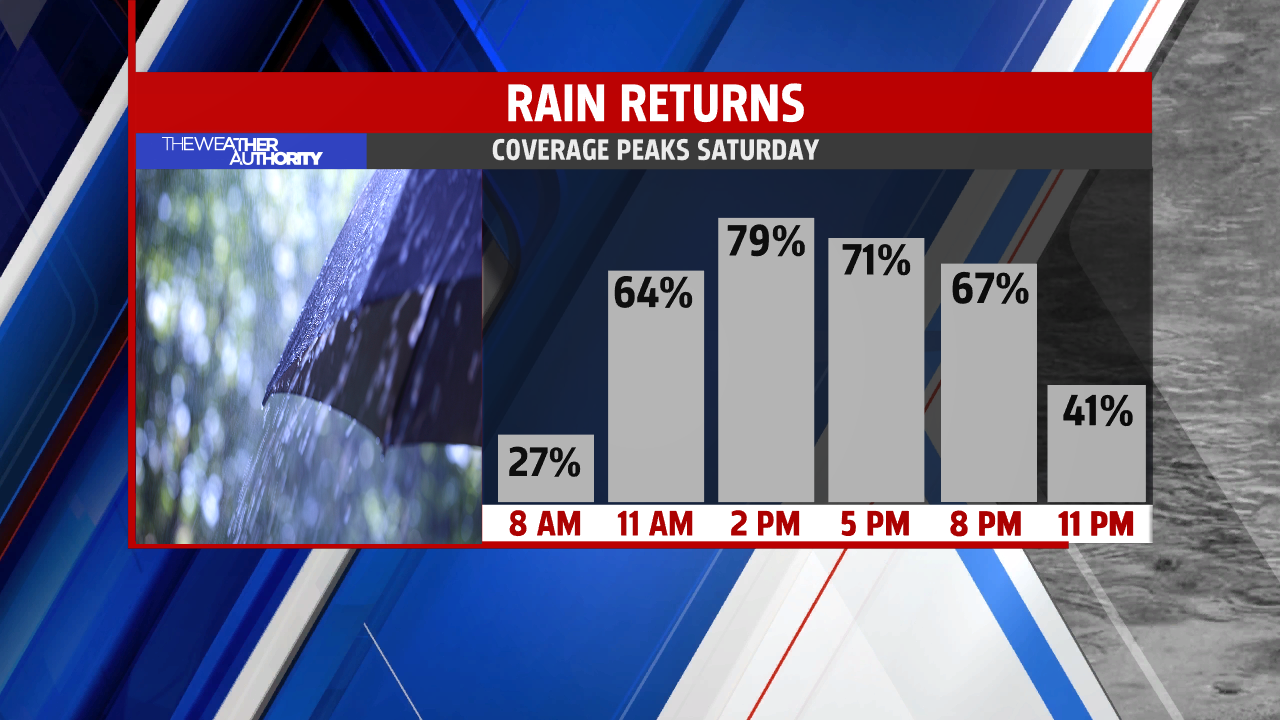 CHECKING IN ON SPRING
April showers have been plentiful and rainfall for the month is running 1.26" above normal. Since March 1st, the rainfall surplus is nearly 2" above.
April started chilly but took a turn to mild in the final two weeks. Since March first this spring is the 9th warmest on record with 57% of days above normal.
The first week of May looks to trend cooler than average with afternoon temps failing to reach the 70° mark. The average high reaches 70° starting May 5th. Longer ranger hints of much warmer weather by mid month. We will update next week. Have a great weekend and welcome to the month of May!