This is an archived article and the information in the article may be outdated. Please look at the time stamp on the story to see when it was last updated.
We will continue to see partly cloudy conditions overnight and cold temperatures.   We should fall back down to the upper teens for a near "normal" temperature night in Central Indiana.  But the weather story starts to get interesting on Sunday for a few reasons.  An approaching warm front will bring in precipitation to Central and start a major warm up.  But in the process of getting that warm air here, we will see a period of time where freezing rain and sleet will fall.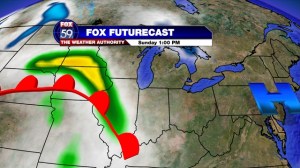 Quickly, let's start with why this happens.  The cold air at the surface is very dense and it takes a while to move away.  But with the warm front lifting over us, the warm air literally rides over the dense, cold air that's still at the surface.  So now you have a pocket of warm air that will result in liquid precipitation and colder air at the surface that will freeze it.  As we all know, freezing rain results in a thin sheet of ice on roads, tree limbs, sidewalks and more. 
We will start Sunday with partly cloudy skies and cold temperatures.  The warm front will start producing precipitation in Central Indiana after 2-3 PM in our western counties.  As you can see in the map below, the better chance for freezing rain will be from I-70 and to the north.  This is where the cold air will hang on the longest at the surface.  For those of you that live south of I-70, don't rule out the freezing rain but it shouldn't be as widespread or as thick as what the northern half of the state sees.  Up to .1″ of ice is possible north of I-70.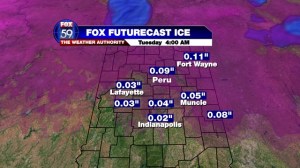 Something else to keep in mind for Sunday afternoon is the actual temperature at the surface.  We should go above the freezing mark by 4 PM but the ground is still going to be very cold.  Just think about an item you take from the freezer.  It doesn't thaw the instant you take it out.  Instead, it takes some time to reach the new air temperature.  That's exactly what will happen through Sunday evening and why freezing rain will still occur despite the official air temperature. 
4:30 PM Radar: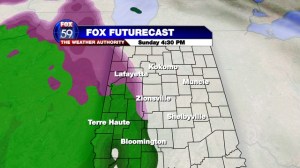 6 PM Radar: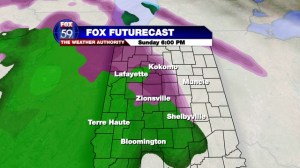 You can expect slick spots to develop on the roads Sunday afternoon and evening, so plan your day accordingly.  If you have to travel, take it slow and allot extra time to get to your destination.  If you don't need to travel, wait it out because this ice won't last very long.  That's the best news if any regarding this system. Temperatures will continue to climb Sunday night and this along with rain, will help the ice disappear!
Temperatures continue to climb on Monday and we should reach the 50 degree mark for a spring like day.  Skies will be mostly cloudy and light rain will continue.
Temperatures continue to improve on Tuesday.  Highs should reach 60°F with mostly cloudy skies and continued light rain.  Rainfall turns heavy Tuesday night/Wednesday morning and will be accompanied with some isolated thunderstorms.  This will be the cold front that will bring an end to this warm spell.  Temperatures fall on Wednesday as we slip back to the deep freeze.