This is an archived article and the information in the article may be outdated. Please look at the time stamp on the story to see when it was last updated.
Central Indiana is in for a little bit of everything on Sunday as another weather system heads into the state.  The first part of this system will arrive Sunday morning and especially by the noon hour.  This first wave will be snowfall basically from I-70 and all locations to the south. Snowfall is likely to fall from the late morning hours through 7 PM.  After that, snow showers will be more spotty south of I-70.  This snow will be wet and heavy.  Also, this snow won't stick right away because surface temperatures will actually be above freezing.  But over time, the snow will start to accumulate with highest amounts near the Ohio River.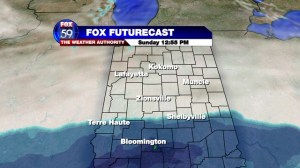 Here's the snow breakdown.  If you are from Muncie to Lafayette, you'll just see mostly cloudy skies and maybe some flurries tomorrow.  But from Crawfordsville to Anderson and south to I-70 is where the snow will be seen on the lighter side.  It's in this zone that only trace amounts of snow will accumulate.  Then we get to the south metro, like Greenwood and Southport.  This is where 1″ of snow is possible.  As you can tell, it's a pretty sharp cut off.  Snowfall amounts turn a little bit higher in our southern locations like Bedford and Seymour where 2-4″ of snow is possible.
Snowfall should diminish by Sunday evening as temperatures start to rise.  But another wave of moisture will push in late this night and the temperature profile will be more suitable for freezing rain right through the central part of the state.  If you are south of I-70 Sunday night, you'll mainly see rainfall with some sleet and freezing rain at times.  But it's near the I-70 corridor that a  decent period of sleet and freezing rain will occur before sunrise.  Freezing rain will also be possible for the northern half of the viewing area. This is going to leave around 1/10″ of ice and create slick conditions before the morning commute.  This will all eventually turn to rain as temperatures continue to rise during the day.  The rainfall chance also diminishes by the afternoon hours.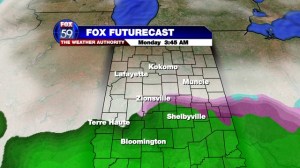 The weather remains cold and dry throughout the rest of the workweek with below normal highs.  Wednesday and Thursday will only see highs near 33°F and this will be nearly 20°F below normal!