This is an archived article and the information in the article may be outdated. Please look at the time stamp on the story to see when it was last updated.
Big changes to your weather forecast as rain chances head down while your comfort level will head up.  High temperatures today should be around 80 degrees.  While today's high will be only about five degrees cooler than yesterday's high, the feels like difference will be more than 10 degrees!  Yesterday the feels like temperature hit the middle 90s.  The feels like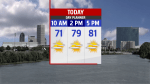 temperature won't hit the mid – 80s for today!
What we will see today is plenty of sunshine.  We may start off with a few clouds around but by the afternoon hours skies will be clear.  It will feel pleasant outside with the lower dew points in place and a light wind out of the north.  Today and Friday highs will be in the low 80s.  These conditions will stick around through Friday before winds turn to the south again. 
With winds changing to the south heading into the weekend, temperatures will begin to tick up once again.  Saturday highs will be in the mid-80s with Sunday highs in the upper 80s.  Humidity is set to return along with a small chance at this time for rain on Sunday.  Isolated to scattered rain will stick around through Thursday.