This is an archived article and the information in the article may be outdated. Please look at the time stamp on the story to see when it was last updated.
(July 25, 2014) – Initial data this morning is unchanged with model data forecasting a wet and at times stormy weekend.  The weather WILL impact the Brickyard 400 weekend.  There is still uncertainty when it comes to exact timing of systems sliding through, but there will be a chance for rain on Sunday that may delay or slow down the big race.
Rain possible today:
Today's weather is going to be fantastic before 3 pm.  Scattered rain will be possible later on this afternoon as rain with isolated storms enters the state.  We are expecting most of the storms to die out before reaching Indianapolis, but there will be a chance that the city sees one or two isolated storms and perhaps a thunderstorm.
Highs today will be near 80 degrees.  Winds will be out of the southeast at 5–10 mph.  Humidity will remain low with dew points hovering in the mid to low 50s.  Enjoy it!
Coolest July Ever for Indianapolis?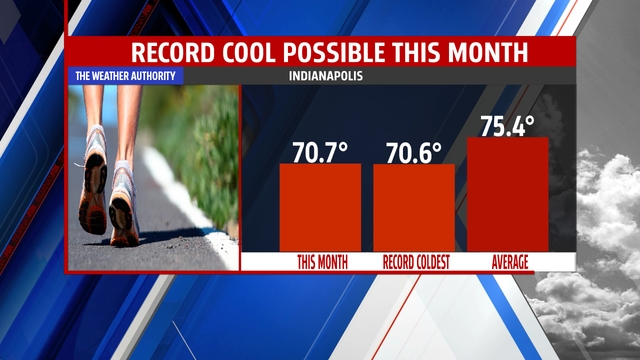 Yesterday's high only hit 76 degrees with a morning low of 58 degrees.  Both of these temps were about 10 degrees cooler than the average for this time of the year (85, 66).  The average daily temperature for Thursday was just 67 degrees.  While it certainly brings our monthly average down, the number will remain unchanged with us averaging 70.7° for an average daily temperature this month.
While weekend temperatures could bring the average up with morning lows expected to be near 70, it still looks like we will finish the month ranked in the top 5 when it comes to the coolest July on record for the city.
Weekend storms: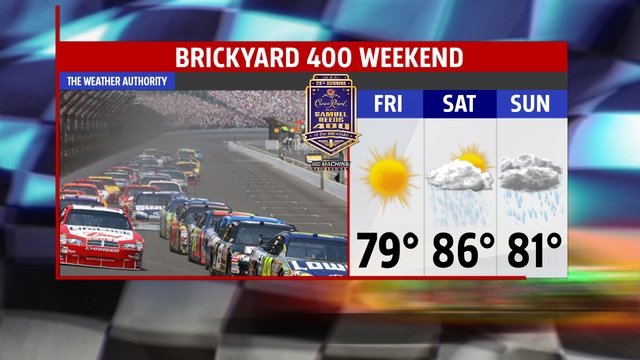 Storms could arrive as soon as late tonight into your Sunday morning.  Tonight's warm front could drag storms into the state.  Some of these storms could hit severe criteria.  We are highlighted for a severe risk for Saturday with gusty winds a big concern.
Brickyard 400:
Here we go.  We talked briefly about the setup yesterday that is impressive.  High pressure anchored to our southeast and Gulf moisture riding the ridge to the state.  We expect to see converging winds at the surface with diverging winds aloft.  We often call it a moisture train as rain and storms will develop downstream of the state and move east northeast into the state.  While not a lot we will see rolling thunderstorms embedded in these rain showers if everything plays out in a worst-case situation.  Yesterday I said the city could easily see 2–3 inches of rain.  Model data is now coming around to my thinking with the GFS forecasting 1.38" of rain falling from midnight through about 8 a.m. on Sunday morning.  The GFS keeps rain around through race time with slowly improving conditions over the rest of the afternoon hours.
The Euro is perhaps the worst-case scenario for the race holding rain back until race time and keeping rain in for the rest of the day.  The rain totals aren't as impressive right now with EURO model data, but the timing is much worse.  If the EURO verifies we would be looking at a washout.