This is an archived article and the information in the article may be outdated. Please look at the time stamp on the story to see when it was last updated.
Summer like heat and humidity are finally returning this week after a pretty decent run of below normal temperatures.   It was on Monday last week that we hit 84°F and we haven't seen a temperature at that mark since.  The last week has really been a fall preview, but that is definitely over!  Temperatures returned into the mid to low 80s this afternoon with relatively comfortable dew points.   We are still below the 60 degree mark for our dew points across most of the state so that helped in the comfort category today.  High pressure will be  in place tonight so any clouds around this afternoon should start to dissipate after sunset.  Temperatures will be a little bit warmer than what we saw this morning.
Temperatures climb back into the mid 80s for Tuesday afternoon with mostly sunny skies.  But with winds shifting to the southeast, this will help bump up our dew points into the mid to low 60s.  This will result in a more summer-like feeling and slightly higher feels like temperatures.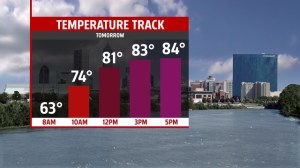 Heat and humidity will continue to build this week.  Temperatures should near the upper 80s on Thursday.   This will be a truly hot and humid day.  Rainfall chances are also sneaking back in this week.   The models haven't really been in agreement as to when we'll see our best window for precipitation mid-week.  I'm seeing the support for some isolated showers and storms starting Wednesday afternoon, especially in southeastern Indiana.  An isolated chance for showers and storms is also in for Thursday.  The one place where the models did a flip-flop from yesterday is concerning Friday.  With how things played out today, most of the weather models are drying us up by Friday afternoon and staying dry, hot and humid for the weekend.