This is an archived article and the information in the article may be outdated. Please look at the time stamp on the story to see when it was last updated.
We are tracking quiet start to Sunday with a mostly clear sky over Indianapolis. Temperatures are in the lower 70s again this morning with dew point temperatures in the upper 60s.
Be prepared for another hot and humid day as high temperatures rise near 90 degrees this afternoon! The humidity is going to make it even hotter with the heat of the day. Heat indices will reach into the mid-90s.
The juicy atmosphere over central Indiana today may trigger an isolated shower or thunderstorm. We will lose the slight chance for rain late in the evening as temperatures begin to decline. Lows will fall into the lower 70s tonight.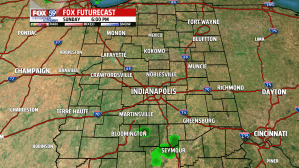 Labor Day's forecast is going to be similar to Sunday's weather. Highs may bump up a degree or two during the afternoon with isolated storm chances. The heat index will rise near 100 degrees on Labor Day! If you have outdoor plans for the holiday, you will want to take several breaks and try to stay hydrated.
Expect more 90s though midweek! Temperatures will begin to fall at the end of next week with highs in the mid-80s by Friday. Another system will arrive by Thursday afternoon and bring several rain chances through next weekend.