This is an archived article and the information in the article may be outdated. Please look at the time stamp on the story to see when it was last updated.
COOL MORNINGS NUMBERED
A great start again Friday morning with comfortable temps that dipped into the upper 40s over parts of NE Indiana. Coolest #'s nearby included 50° at Crawfordsville and Martinsville. The cool weather has moved on for now.

Still mild tonight and along with light winds, some haze and fog likely to start Saturday. An upper level disturbance as carried clouds into the state this afternoon along with some light rain in far southeast Indiana. This system offers small shower chances again Saturday afternoon. Most of us will remain dry all weekend long but we will add humidity to the mix – a sign of changes on the horizon.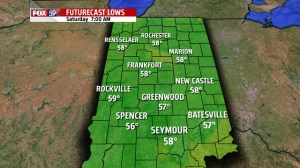 PATTERN CHANGE
Summer is alive and well, baking the Pacific Northwest with unusual heat for the past 2 weeks and that heat isn't static. The jet stream around the hot dome out west will flatten in the days ahead allowing the warmth to spread east.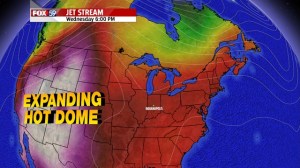 WAITING ON 90°
Still no 90° officially for the city but signs off the overnight computer runs are slowly warming up to the idea of 90° heat (sorry for the pun) here middle of next week. With added heat and humidity – thunderstorms chances climb as well. Best storm chance arrives Wednesday/Thursday time frame with a heat breaking cold front.