This is an archived article and the information in the article may be outdated. Please look at the time stamp on the story to see when it was last updated.
We saw another day with below normal temperatures across the state. We ended up with highs in the upper 70s and low 80s. Skies were mostly cloudy for much of the afternoon but these clouds will fade overnight as skies become mostly clear. As for temperatures this evening, we'll stay in the mid to upper 70s through sunset.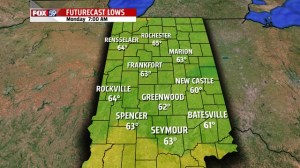 TONIGHT: We'll see mostly clear skies overnight, light winds and cool temperatures. Lows should drop into the low 60s. You also can't rule out some patchy fog yet again. Be sure to watch Jim O'Brien Monday morning for the latest fog information and visibilities across central Indiana.
MONDAY: Skies will be mostly sunny on Monday and our winds are finally turning to the southeast. This is going to allow temperatures to get a bit warmer and finally back to normal for this time of year. This means the mid 80s across the viewing area. Dew points will also rise a bit on Monday to make it feel a bit more sticky outside.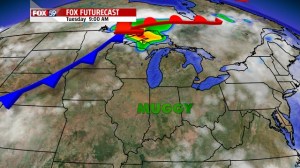 EXTENDED: An area of low pressure moving from the northern Plains and eventually through the Great Lakes region will help heat and humidity build again on Tuesday. Highs will top out in the upper 80s with mostly sunny skies. It will also be another humid day. Scattered showers and storms return on Wednesday as the cold front associated with this system moves through Indiana. Once that system moves out Thursday morning, temperatures will drop back near 80° for a few days and dew points will also drop back down to more comfortable levels. So our latest run of summer-like days will not last very long.