This is an archived article and the information in the article may be outdated. Please look at the time stamp on the story to see when it was last updated.
SUMMER SIZZLE
It was the warmest afternoon of this July Tuesday with a high temperature of 88° for the city officially.  At 6 PM 92° Columbus, 91° Bedford and Seymour - warmest in over 4 weeks.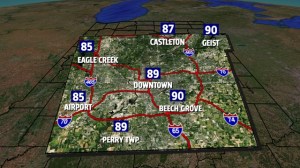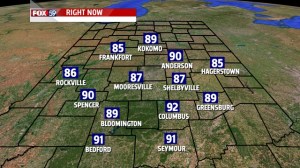 NO OFFICIAL 90°
Today marks the 314th day since last official 90° in the city - ranks as 26th longest stretch on record.  The last 90° came September 11th, 2013 with a high of 95°.
Many location have topped 90 degrees already this year and did it again Tuesday.  Here are some of the hottest temperatures Tuesday.
93° Columbus, 92° Seymour, 91° Bedford, Anderson, Geist, 90° Spencer, Beech Grove
COLD FRONT COMING
This heat is short lived - a cold front is due here Wednesday ending the brief blast of heat and delivering anohter batch of mild air for late July.  Afternoon temperatures will lower to the upper 70s and lower 80s Wedneday with humidity falling throughout the day.
Storms chances will rise with possible storms moving into northwest counties after 12 AM. Some strong storms are possible and may hold together to reach city pre dawn. I'm posting below the NWS HRRR forecast radar at 1 AM Wednesday morning.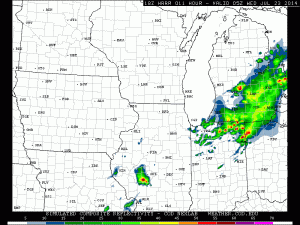 A cold front passes tomorrow with next flare up of storms possible. Winds shift in wake of front with new surge of cool and less humid air to end the work week.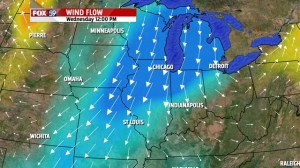 A new surge of cool still on track to close out this July with deep trough or dip in jet stream early next week.