This is an archived article and the information in the article may be outdated. Please look at the time stamp on the story to see when it was last updated.
STREAK CONTINUES
Friday afternoon warmed into the 80s area-wide but the day will go into the books as the 10th straight day below normal in a July that has been mild.  Only 1 day this month the  1st has averaged above normal.  currently July 2014 is running 4° per day below normal with an average temperature of 71.2° – ranks 19th coolest to date all-time.
WARMER NIGHT
We have enjoyed low humidity and mild nights finishing off the work week, that ends for the weekend as more humid air moves in tonight.  An approaching warm front will increase clouds, transport moist air into the state and activate showers and thunder showers along it.  Low temperatures Saturday morning will be closer the normal of 66°
STORMY SPELLS
The active jet stream along with the arrival of moist, unstable air will support clusters or batches of thunderstorms through Thursday afternoon and night.  Timing these storm complexes can be difficult but often they are driven by a night-time jet stream.  The thinking is a batch of storms will enter the state early Saturday morning then diminish closer to noon.  A new batch would develop again later Saturday and into the early morning Sunday with a 3rd batch to form Sunday afternoon.  Stay tuned there is still much to be resolved on the timing of these storms.
Below 2 different takes on the location of storms early Saturday morning from the NWS RAP model and our own in-house RPM model.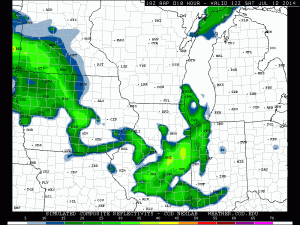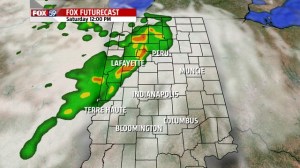 Any one of the clusters will contain gusty if not severe storms with vivid lightning and the potential for thunderstorm wind damage.  The Storm Prediction Center has included central Indiana in  'slight risk' for severe storms in their forecasts Saturday and Sunday and even a portion of the state on Monday.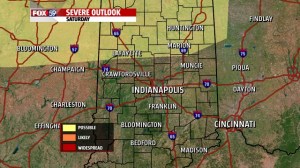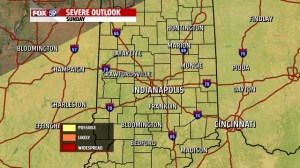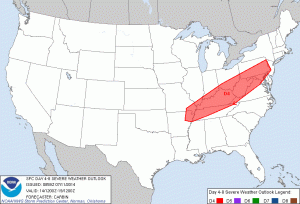 FALL-LIKE AIR NEXT WEEK
After the passage of a cold front later Monday – unseasonably cool air will flow into the state on Tuesday.  A huge buckle in the jet stream that carries very warm air north into Alaska, record heat into the Pacific northwest will dislodge cool air over the eastern half of the US.  Similar to the winter pattern and perhaps the driving force to our mild Summer to date, very warm ocean water temperatures persist in the north Pacific off the coast of Alaska.  Overnight low temperatures next week could near record lows in the city – with afternoon high temperatures at mid to late September levels.