This is an archived article and the information in the article may be outdated. Please look at the time stamp on the story to see when it was last updated.
WARMER NIGHT
Changes underway this afternoon as clouds roll in. This is dry air so rain showers are fading, few sprinkles now as they enter eastern Indiana. We expect dry conditions for the balance of the evening.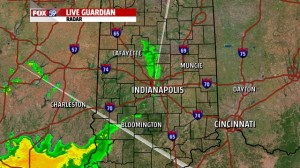 Added clouds and a wind shift along with an approaching warm front will all add up to a milder night.  early Fridfay morning low temperatures reached the upper 40s at Peru - amazing cool for late July!
Other impressive July 25th low temperatures include:
49° New Castle
47° West Lafayette
46° Crawfordsville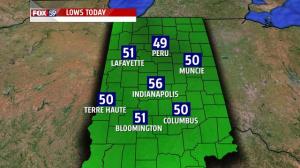 STORMY SPELLS THIS WEEKEND
We will have some active and potentially severe storm clusters this weekend. As we pointed out last night - the threat for severe storms could arrive as early as Saturday evening into Sunday morning.  Both days we have been out looked by the NWS SPC for a slight risk. Below the outlooks along with the SPC SREF models severe composites indicating plenty of atmospheric energy (cape) a product of heat and humid air to fuel storms and a probability of severe storms by Saturday evening.
With humidity surging - locally heavy rainfall, perhaps flash flooding could occur later Saturday and early Sunday morning. Computers estimate over 2.5" of moisture evaporated (precipitable water) in the atmosphere by Saturday evening.  That is very high for central Indiana and a good indication that flash flooding may occur.  The main threat from the 'severe' storms will be damaging wind gusts.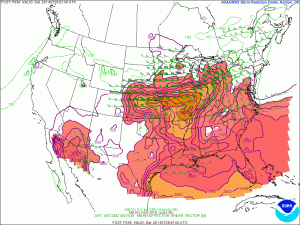 That said, there will be dry time, especially Saturday late morning into the afternoon.  That is when the warm/humid air will surge into the state.  The big question is how much dry time Sunday?  After early morning storms, crews may be working hard to dry the track.  How long of a gap between AM storms and possible new showers and storms Sunday afternoon is still up for debate.  We will have a better handle on that later tonight and early Saturday.
For more updates be sure to follow me at
Facebook: Facebook/Brian Wilkes
Twitter: @BrianWilkes59wx