This is an archived article and the information in the article may be outdated. Please look at the time stamp on the story to see when it was last updated.
SCATTERED SHOWERS BREAK FOR NOW
Radar returns at 3 PM showed a broken line of showers developing and pressing east toward Ohio – an indication of where a cold front was located late Wednesday afternoon.  Rain chances dry up for a few hours but will return later this evening as colder air rotates in behind a departing low pressure system.  The wrap around cold air is expected to generate a new batch of scattered rain and snow showers this evening and early tonight.  Clearing is expected after 3 AM.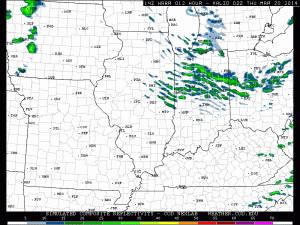 COLDER AIR RETURNS
Evidence that the front has passed – from 2 PM to 3 PM a 5 degree drop in the temperature occurred in the city.  The cold front will sweep east this evening.  Winds are increasing and may gust at times to 30 miles per hour.  Temperatures Thursday morning will turn cold,  lowering into the upper 20s and lower 30s – down considerably from the early morning low Wednesday of only 45°.
A scan of weather records revealed this is the coldest start to a year in 35 years.  Since January 1st the average temperature of 23.8° in Indianapolis is the coldest since 1979.
SPRING ARRIVES THURSDAY
Winter is officially is over at 12:57 PM Thursday – the official start of spring in the northern hemisphere and the exact time when the most direct ray of the sun reach the equator.  Seasonal temperatures are expected Thursday (around 50°) with even warmer air coming Friday.  But stand by – colder air looms again starting this weekend.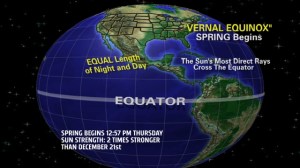 WINTER PATTERN RETURNS
Say it isn't so!  The dominate winter pattern will make a resurgence again later this weekend and early next week after a few milder days here to end the work week.  Temperatures are expected to run 15 to 20 degree below normal early next week.