This is an archived article and the information in the article may be outdated. Please look at the time stamp on the story to see when it was last updated.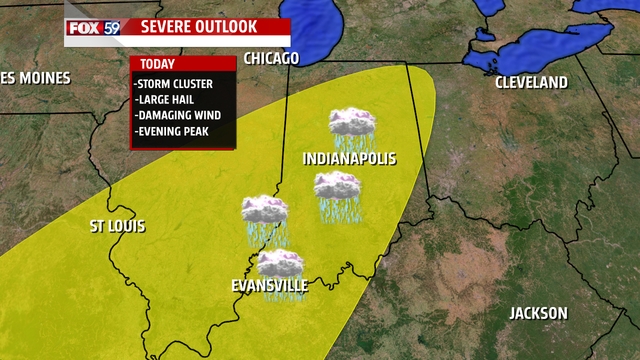 Severe weather will be possible today with the chance for large hail and damaging straight line winds setting up around potential hail producing storms.  If there is a day where weather will play a role in the inaugural Grand Prix of Indianapolis weekend it would be today.  Gates open at IMS at 9 a.m. with qualifying beginning at 11 a.m.  They're racing today starting at 3:30 p.m. with the last race getting going at 5:30 p.m.  Admission to get in today is $20.
The peak time for any severe weather would be late this afternoon to the evening hours as a cold front slides through the state.  The Storm Prediction Center says there is a 15 percent chance of seeing severe hail (1+ inch) within a 30-mile radius of any random point in the risk area through the day.  There is also a 15 percent chance of seeing severe wind gust (58 mph +) using the same criteria.  The tornado threat is significantly lower.
Up until today the airport hasn't recorded anything more than a trace amount of rain this month so far.  This is the first time we have gotten to the ninth with no measurable rain since 1992 and something the city has only done 14 times ever.  It looks like we will finally get more than a trace amount today with model data averaging about a half inch of rain overall.  There is a chance you won't see a drop of rain today.  Anyone in the path of one of the afternoon thunderstorms could see significantly more rain than everyone else.