This is an archived article and the information in the article may be outdated. Please look at the time stamp on the story to see when it was last updated.
UPDATE (2:55 P.M.): A Severe Thunderstorm Watch has been issued for several central Indiana counties until 10 p.m. Counties under the watch include: Bartholomew, Brown, Clark, Clay, Crawford, Daviess, Decatur, Dubois, Floyd, Gibson, Greene, Harrison, Jackson, Jefferson, Jennings, Johnson, Knox, Lawrence, Martin, Monroe, Morgan, Organ, Owen, Perry, Pike, Scott, Shelby, Sullivan, Vigo and Washington.
Here is a picture of the WATCH area.  The image featured at the top of this posts shows the "slight risk" area issued for today by the Storm Prediction Center.  Again, the picture at the top of the page is NOT the watch area.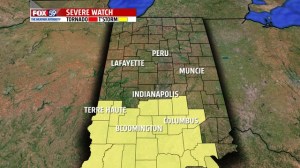 ORIGINAL POST (5:44 P.M.): There's a slight risk for severe weather today with large hail and destructive straight line winds the main concern.  Storms would likely develop this afternoon as a weak front slides through.  Rain chances will end by about 8p tonight for Indianapolis.  Rain will end later for places south of the city.
Cooler weather won't stick around for long as we are already tracking heat building for the weekend.  Highs today will be in the mid-80s and slightly above the average of 83 for this time of the year.  The last of a series of fronts that have slid through over the past 2 days will bring cooler air to the region overnight tonight.  Lows are expected to drop to the low 50s in some areas with clear skies tonight.  Then Wednesday highs are only expected to be near 80.  After that though we will see low rain chances along with building heat heading into the weekend.
Thursday highs will hit 82 degrees and will be close to the average for this time of the year.  Friday should see a high in the upper 80s.  90s will be possible by Saturday with an isolated chance for some rain as we track a warm front and surface low northwest of Indianapolis.  This area could bring us some rain over the weekend, but right now there is no model agreement as to what to actually expect.  Sunday highs will likely see several areas hitting 90 degrees and we are forecasting a high of 90 for Indianapolis.  The heat continues to build as we head into next week with an expected high of 91 degrees on Monday.