This is an archived article and the information in the article may be outdated. Please look at the time stamp on the story to see when it was last updated.
We get a temporary break from snow today with plenty of sunshine, but snow won't be gone long.  We are already tracking our next system that will arrive on Monday with heavy snow possible from Tuesday night into Wednesday morning.  At this point it doesn't look like Indianapolis will see much in accumulating snow after the projected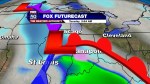 track of heavy snow has now swung about 50 miles north.  This uncertain track will be a little more certain with each progressive run of information leading up to this event on Tuesday. 
How it looks right now expect some light snow turning over fairly quickly to rain and a mix for Monday afternoon in Indianapolis.  A warm front will move in from the southwest.  Monday night and Tuesday morning will be notably warmer from Indianapolis south with the warmer air mass in place.  It won't last long though as a surface low and cold front blow through on Tuesday afternoon.  This will be the point where we change over from rain to snow.   I don't think we see a lot of snow for Indianapolis, but I do think we will see some accumulation.  At this point I think the airport will report about 2 inches of snow falling in the city on Tuesday into Wednesday morning with accumulations well below an inch.  Before this, any snow that falls will not accumulate so I'm not as worried about totals for that.  As with any time it snows, roads could become slick. 
After the snow gets out of here I think we see a nice little warm-up into the weekend.  Thursday highs will be near 40 with Friday highs near 50.  Saturday could see a high approaching 60 degrees!  Enjoy it, long range models are showing winter is done with us just yet.