This is an archived article and the information in the article may be outdated. Please look at the time stamp on the story to see when it was last updated.
INDIANAPOLIS, Ind. --Good Monday afternoon! I'm tracking a cloudy sky after early morning sunshine. Temperatures started this morning in the upper teens and have climbed to freezing or above at many locations this afternoon. Indianapolis spent 133 hours below freezing so it's nice to see the 'warmer' weather.
A warm front will lift north across the area tonight and bring a rise in temperatures from the low to mid-30s into the low 40s by daybreak Tuesday. Moisture will also accompany the front and the atmospheric profile shows the potential for freezing drizzle or light freezing rain, mainly after midnight tonight. I'd be especially cautious between the hours of 2 a.m. and about 6 a.m. in Indianapolis. Even with air temperatures slightly above freezing, bridges and overpasses are still below which could turn slick rather quickly as the precipitation falls.
Some light snow is possible north of Indy this afternoon and evening. A Winter Weather Advisory is in effect across northeast Indiana as ice and light snow becomes an issue. Keep that in mind if you're traveling.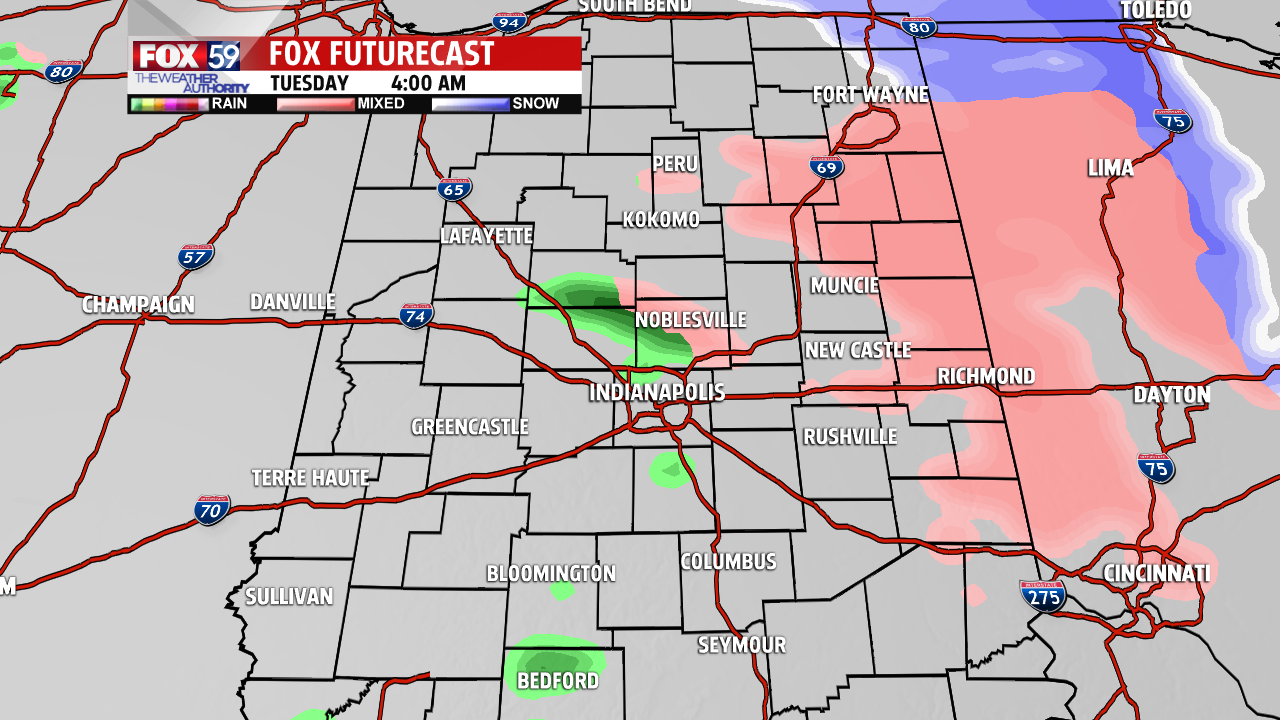 Another story will be the winds. Winds will become gusty tonight out of the south and gust as high as 25 mph. They will increase through the day Tuesday with gusts to 35 and 40 mph by late morning and afternoon. Watch the cross wind on those west to east roads.  Rain and possibly a couple of thunderstorms are likely Tuesday as temperatures go up to near 50 degrees.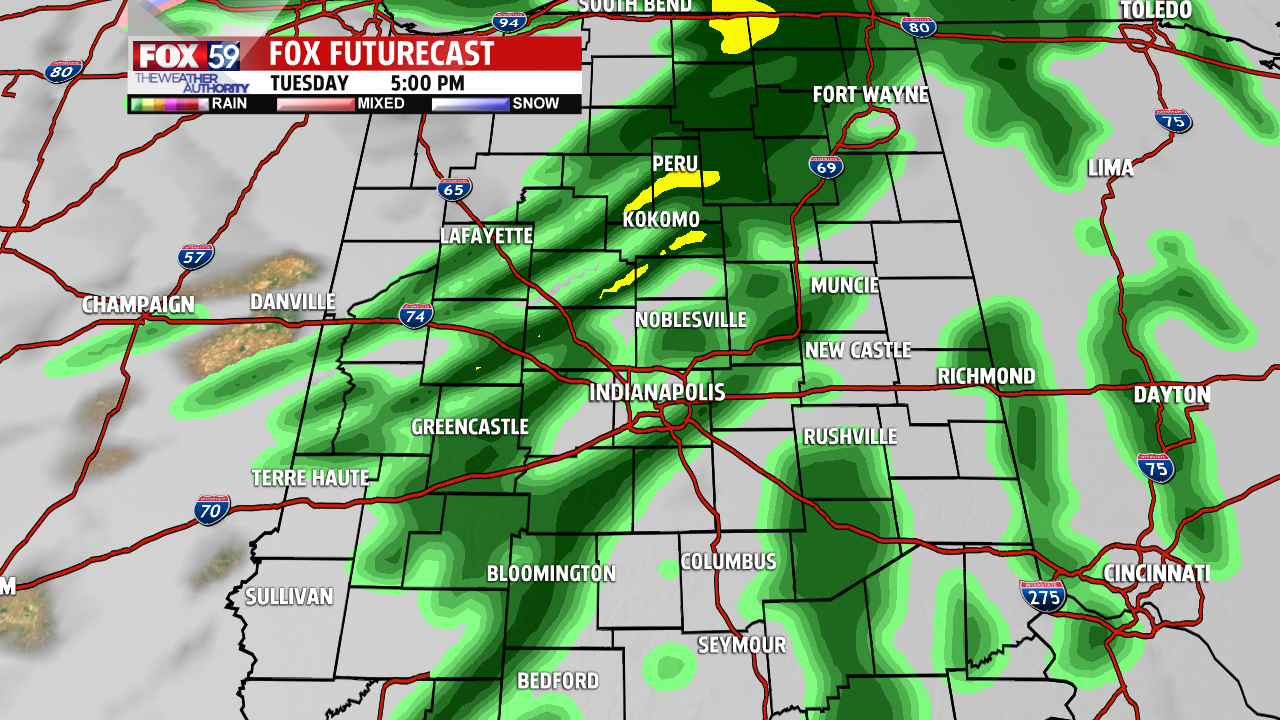 Wednesday there will be fog in the morning. Rain and possibly a couple of thunderstorms are expected, especially in the afternoon and evening. It will start colder with lows in the upper 30s and highs in the low to mid-50s and rising.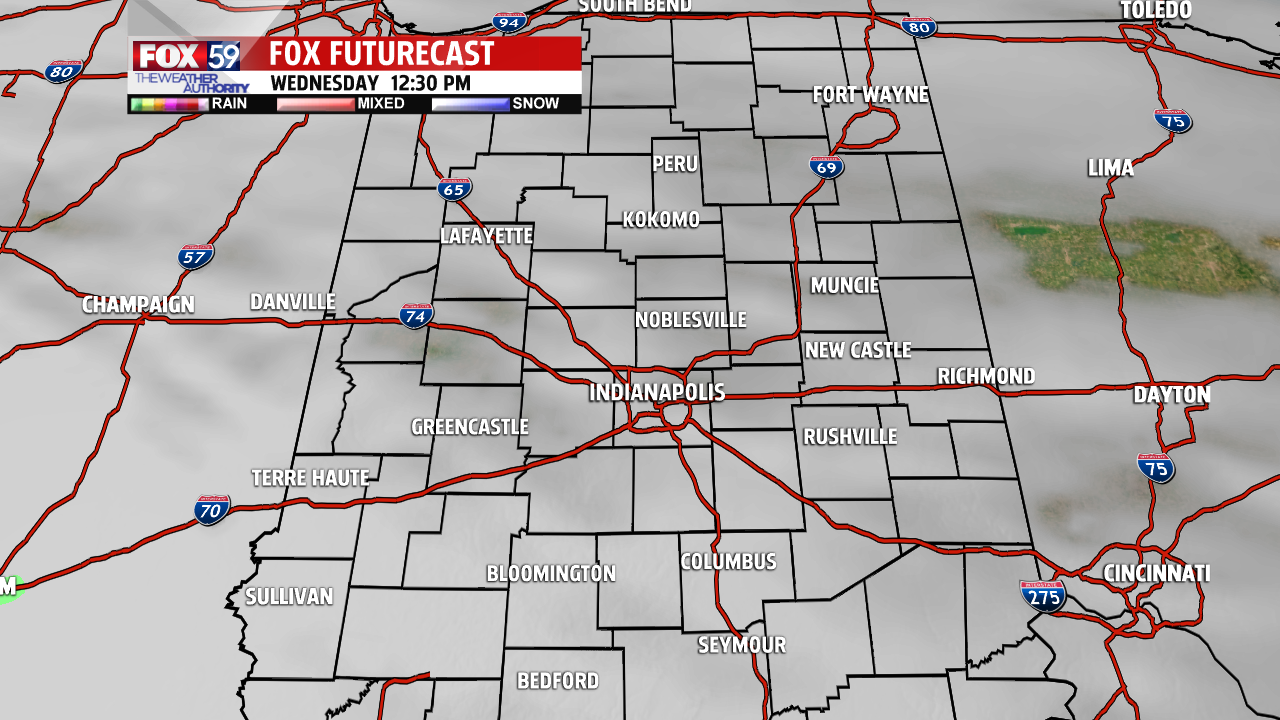 Additional rain and t-storms will be likely Thursday with highs near 60 degrees. We're watching the weekend for a nasty weather system that will affect central Indiana. Sleet and freezing rain is possible Friday as colder air moves into the region. Freezing rain and rain are possible Saturday and Sunday. Stay tuned as we track this busy forecast! --Danielle Dozier