This is an archived article and the information in the article may be outdated. Please look at the time stamp on the story to see when it was last updated.
PATCHY LIGHT RAIN
Scattered showers are expected to linger after dark and begin diminishing from west to east after 12 AM.  Rainfall amounts have been light and a run of 7 rainfall producing computers averages only .22" of rainfall.  We have not had measurable rainfall in the city officially for 9 days.  The extended period is not showing much rainfall as well.  Only light amounts will accompany a system Thursday and again early Saturday.  The 2.5 week rainfall numbers are around 1", only 59% the normal.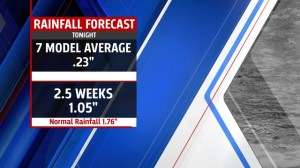 COOL PATTERN CHANGE
Fall 2013 has been a warm one especially the first 2 weeks of October.  Today marks the half-way point of Meteorological Fall, the months of September, October and November.  Tuesday marked the 8th straight day with an average temperature at or above normal and the 32 day since September 1st above normal.  70% of the days this fall have been warmer than normal – a pace that will not continue.  There have been signals off the long range U.S. forecast model of a cool correction in the upper air pattern to finish off the month and those signals remain strong.  A breakout of temperatures over the next 16 days shows real chill coming with afternoon temperatures possibly averaging 10 to 15 below normal.  Here is a breakout  of the high temperatures from normal over the next 16 days.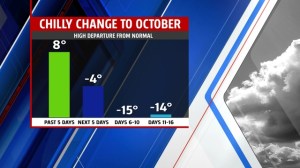 PAST 5 DAYS: +8°
Days 1-5: -4°
Days 6-10: -15°
Days 11-16: -14°