This is an archived article and the information in the article may be outdated. Please look at the time stamp on the story to see when it was last updated.
(Nov. 26, 2014) - After a light dusting overnight in a few spots...expect a dry, chilly start this Wednesday morning.  Travel weather today across the Ohio Valley looks great, although chilly for this time of the year.  I'm hoping for peeks of sunshine but I wouldn't hold my breath, at least the winds have settled down.  Here is the day planner for most of the state today:
Light snow is falling out west from southern Minnesota through central Iowa.  Light accumulations will be expected near St. Louis this evening towards Evansville but we stay dry.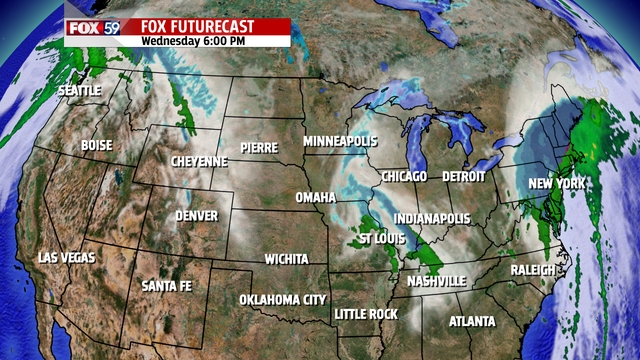 A winter storm is churning its way along the east coast with rain, snow and wind!  Although most metropolitan cities (i.e. New York, Washington D.C. and Philadelphia) will not see much accumulation...flight delays are still expected due to snow in the interiors and wind gusts.
Thanksgiving Day here looks colder and breezy with flurries flying overhead on northwest winds.  Roads should be fine but definitely a winter feel.  Improvements coming for the rest of the holiday weekend, as temperatures surge to near 60 degrees by Sunday afternoon.