This is an archived article and the information in the article may be outdated. Please look at the time stamp on the story to see when it was last updated.
FOG DEVELOPING THURSDAY NIGHT
Clear skies and cooling could set the stage for some fog overnight and early Friday.  Visibility has already dropped late Thursday evening and it may become dense in spots Friday morning.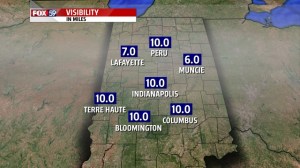 WARMEST IN WEEKS
Early morning fog will diminish as hazy sun rules the end of the work week.  A real nice open to the weekend coming with a warm up expected to crack 50° in the city – the warmest here in nearly 2 weeks.  A nice change, considering Monday the afternoon high of 18° was the coldest March afternoon in years.  The first 5 days of March averaged the coldest in 34 years and ranks 11th coldest ever with an average temperature of 22.6° – that is cold for even January standards.
With some warmer days in the forecast – the overall cold pattern is not breaking, we expect the month to continue to incur several cold spells and end below normal.  This will be the 6th straight month below normal.
BRIEF WEEKEND COOL DOWN
There will be a  pull back from the warming over the weekend – we have been expecting a front to slip into the area Saturday bring a chance of rain and snow showers Saturday evening and overnight.  Forecast high temperature should cool to the 40s over the weekend.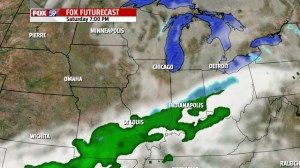 NEW WARM SURGE TO START NEXT WEEK
We will return to a warm up as the jet stream winds flatten and pacific air rolls east for a few days.  Area thermometers could jump to the 60° mark Monday and Tuesday as a new storm system begins to take shape.  Trouble looms by the middle to end of next week – read on.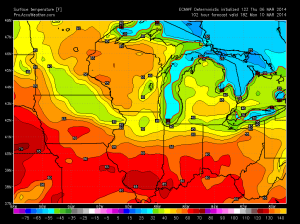 STORM POTENTIAL AND NEW COLD BLAST
The extended forecast has some real eyebrow raising features to it especially of the European computer model trend continues.  Thursday marked the 4th straight day of a major some system developing mid-week over the Ohio and Tennessee river valley.  Resurgent cold air coming south via the polar jet stream is forecast to marry or "phase" with the southern branch of the jet stream (the wet one) and spin up a possible large storm for the eastern U.S.  Still very early but it will require close watch!  Currently the US GFS model is not on board but watch in the days ahead how it starts to look and feel like the Euro solutions.  It is March and it can turn quickly – next week has a high potential for a major storm and a jarring temperature drop.  Stay tuned!