This is an archived article and the information in the article may be outdated. Please look at the time stamp on the story to see when it was last updated.
SUNDAY'S SEVERE STORMS
Violent thunderstorms moved across central Indiana Sunday evening and night.  As of 4 PM Monday there have been no confirmed tornadoes.  Large hail fell to the size of tennis balls near Clinton, Indiana (Vermillion Co) and in Beech Grove hail accumulated to 9" in depth.  The hail accumulation was still visible late Monday afternoon.
Interesting to note, if the hail accumulation in Beech Grove (6" to 9" depth) were to have occurred over the airport, it would count as seasonal snow and added to the total from the winter.  It's considered 'frozen' precipitation and would have registered in the record books as 'snow'.  May has produced measurable snow, the latest on record for the city of .9" on May 8th 1923.
COOL TEMPERATURES
In the wake of last night's storms our temperatures have taken a dive.  Down by as much as 20° from the same time Sunday if looked and felt more like a March day.  Temperature in Indianapolis has only reach 55° - the normal for March 24th.
PAST WEEK WAS WET
The grass is getting tall and growing fast.  The past seven day have been wet - with over 3" of rainfall officially for the city of Indianapolis, that's twice the normal.  Showers are possible but mainly light and widely scattered Tuesday.  The best coverage of rainfall and even a thunderstorms comes Wednesday with reinforcing cool air in tow.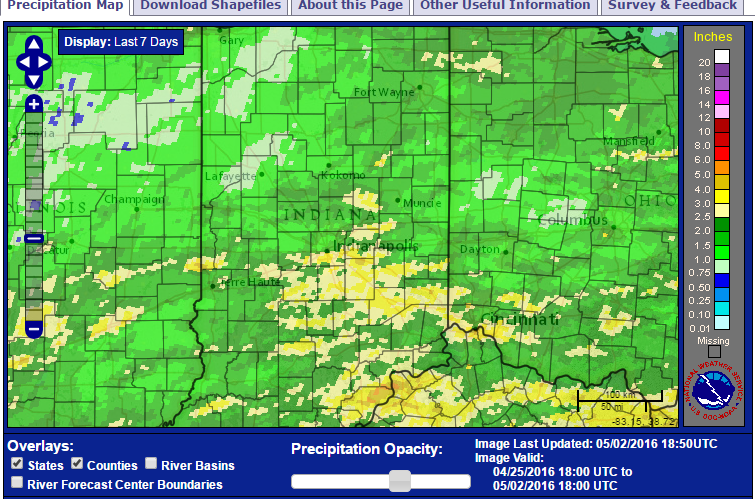 REINFORCING COOL
Showers will reach peak coverage Wednesday ans reinforcing cool arrives behind a new cold front.  A few t-storms are possible.  The pattern will ease heading into the weekend.  Early morning temperatures could dip into the upper 30s early Thursday and Friday morning before a warm up gets underway.
Friday and Saturday will brighten up and warm quickly.  Saturday temperatures could jump well into the upper 70s for the mini-marathon.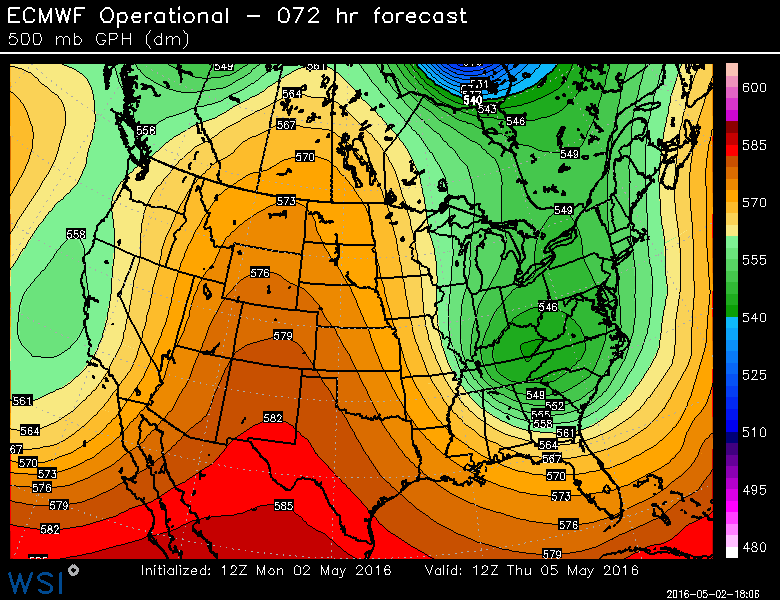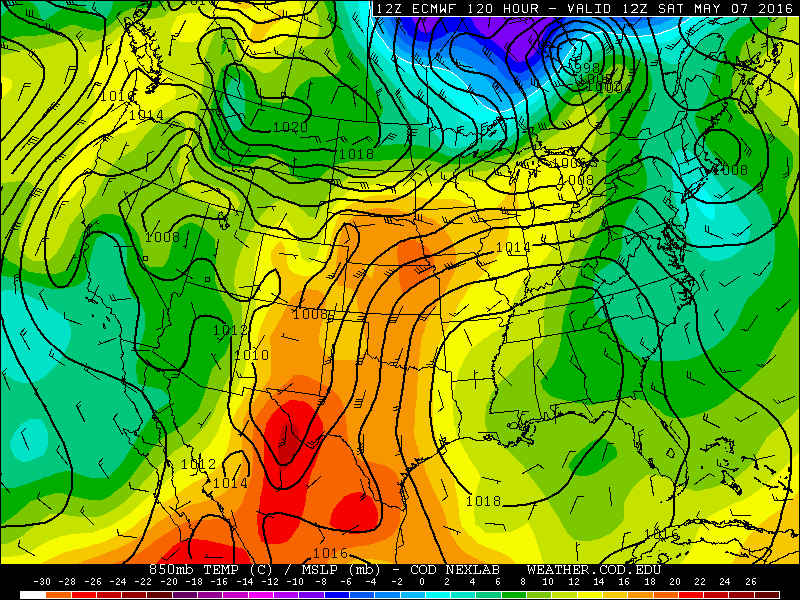 MAY UNDERWAY
We gain another 53 minutes of daylight this month!  Warming continued with average high temperatures of 77° by the end of the month.   It is also the wettest month of the year with a rainfall average of just over 5".