This is an archived article and the information in the article may be outdated. Please look at the time stamp on the story to see when it was last updated.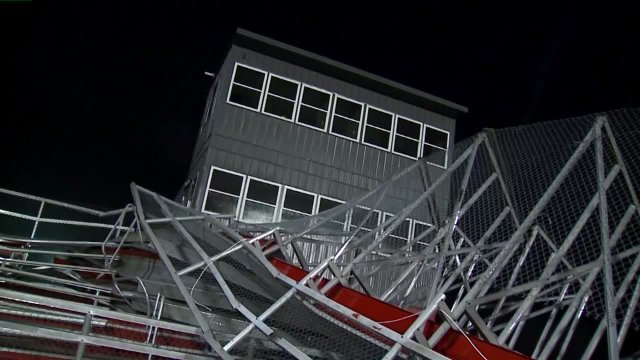 There's a high likelihood that storm damage yesterday evening in Edinburgh (Johnson County) was caused by a microburst, according to the National Weather Service.  Microbursts occur when you have dry air trapped aloft over moist humid air at the surface.  Dry air is not as dense as moist air so as it plummets to the earth you get strong winds pushed out at the surface.  While explaining a microburst it doesn't sound like it would do much in the way of damage but microburst can do damage equal to an EF-3 tornado.  That means winds can top 170 mph at the surface!  Check out the video below.  This is a YouTube clip of a microburst caught on camera in South Dakota.  I haven't seen any video yet from Edinburgh.
Microbursts were once a much bigger threat than they are now.  In the 1960s, 1970s and 1980s several plane crashes were attributed to microburst.  From Pan Am Flight 759 in New Orleans (145 people killed) to Delta Air Lines Flight 191 (Total of 137 dead), microburst were the reason that air travel through the mid-1980s was so dangerous.  Before then the country averaged a plane crash about every 18 months.  Most of those were due to microburst.  In fact, while most associate the name Ted Fujita with the Fujita scale (Our EF scale for tornadoes), arguably his greatest contribution to the art and science of meteorology is in the work he did on proving the existence of microburst.
Microburst are hard to forecast and issue warnings for.  We may see another strong blast of air today.  Upper-air data shows a similar set-up today, with humid and moist conditions at the surface and dry air being forced up aloft.  The area of concern will be off to the east of Indianapolis today ahead of the cold front.  As we often do, meteorologist forecast for the conditions present when forecasting for microburst.  We generally look for what we call a goal post sounding on a skew-t chart (shows what's going on in layers of atmosphere) when forecasting conditions conducive to microburst forming.  A goal post sounding shows humid but mild air at the surface.  As you go higher in the atmosphere you may see both lines veer away from each other in opposite directions.  Overall it looks like the goal post on a football field.  The veering away is due to temperatures going up and air drying out in the mid-levels.  This is where the dry air is that will drop, initiating the microburst.
The local National Weather Office does not expect to survey the area as of this morning.
Microburst blamed for Edinburgh damage

Photo from Art Zeigler/Facebook

Photo from Art Zeigler/Facebook

Photo from Art Zeigler/Facebook

Photo from Art Zeigler/Facebook

Photo from Art Zeigler/Facebook

Photo from Art Zeigler/Facebook

Photo from Art Zeigler/Facebook

Photo from Art Zeigler/Facebook

Photo from Art Zeigler/Facebook

Photo from Art Zeigler/Facebook

Photo from Art Zeigler/Facebook