This is an archived article and the information in the article may be outdated. Please look at the time stamp on the story to see when it was last updated.
It was another cold afternoon in Central Indiana as temperatures only made it into the mid 20s.  Most of the area saw either flurries or steady snow showers throughout the day.
Another clipper system is headed our way for Monday morning, but don't expect this to impact the entire area.  This will mainly bring in snow for the morning hours in our very northern counties like Howard, Miami, Wabash and Grant.  Those locations will wake up to snow showers and nearly 1″ of snow by the morning drive.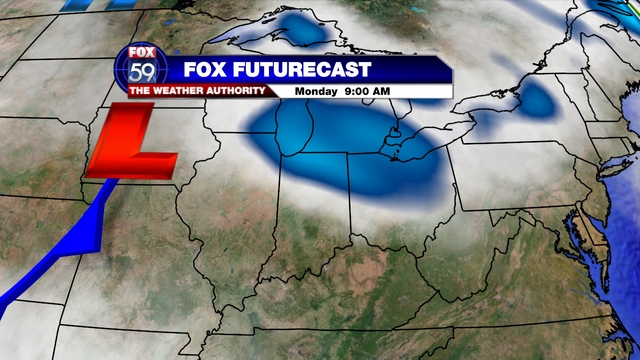 Snow showers continue tomorrow afternoon for locations in the eastern half of the state.  Further west, the moisture just doesn't look as impressive so snowfall amounts will remain at a trace.  But for those east of Indianapolis and especially to the northeast, snow showers will continue Monday afternoon.  We shouldn't go over a few 10th of an inch here in the metro but going north on I-69 and east on I-70 looks a bit more favorable for a quick .5 to 1″ of snowfall in the afternoon.  This would create the potential for some slick spots during the evening commute.
Temperatures will also be very close to the freezing mark tomorrow.  As of right now, it looks like spots north of I-70 should stay below freezing and just see snowfall.  But south of I-70, it isn't out of the question to see some rain mixed in with the snowfall Monday afternoon.  That will result in little to no accumulation in our SE counties.
Here's a look at what the RPM is doing with snowfall totals by Monday evening.  As described above, you can definitely see the bias to the northeast with this system.  Lighter amounts will fall from there.
If you aren't a fan of the cold, listen up because the extended forecast is something you might be excited to see!  Temperatures will slowly climb this week and surpass the freezing mark on Wednesday.  We are expecting highs to hit 36°F that afternoon with partly cloudy skies.  Temperatures hit the low 40s on Thursday.  We will see some rain arriving that evening and it could be mixed with some snow flakes going into Friday morning.  But not worry, this isn't putting an end to the warming trend.  We'll see a minor set back on Friday but then bump back up to 43°F on Saturday.