This is an archived article and the information in the article may be outdated. Please look at the time stamp on the story to see when it was last updated.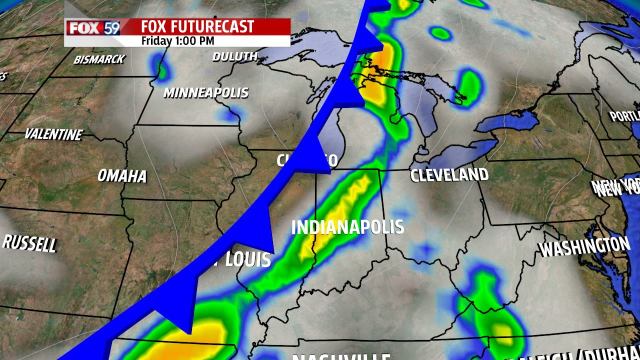 Officially, the state has been taken out of the severe weather risk for today.  The Storm Prediction Center, a government agency under NOAA, is who issues all risks for the country and yesterday they had us potentially in a slight risk for today.  We knew the risk would be dependent on timing of a cold front and just how warm we were able to get.  With the front now expected to slide through at around 7 pm tonight, our severe weather chances have gone down.
Originally it had looked like the timing of the front would be later, possibly around midnight with rain and storms starting up at around 7 pm.  With the earlier arrival of the front our window for rain has also moved up with us now forecasting rain to arrive in western communities like Terre Haute and Lafayette by as early as 9am.  Indianapolis could see rain associated with the main line by Noon.  We cannot rule out a renegade storm or shower ahead of the main line.  Overall you should expect an additional quarter to half inch of rain through the day today.  This should push the average amount of rain for the area from both today and yesterday to about two inches.
Behind the front things will be cooler with highs over the weekend struggling to hit the 70s.  We go back to a dry pattern with next Saturday being the next decent chance for rain according to model data.  Look for a pleasant weather pattern with us slowly warming through the week.  We should see plenty of sun and upper 70s for Monday and Tuesday.  80s return on Wednesday with us forecasting mostly clear conditions and highs in the mid-80s from Wednesday to Friday.