This is an archived article and the information in the article may be outdated. Please look at the time stamp on the story to see when it was last updated.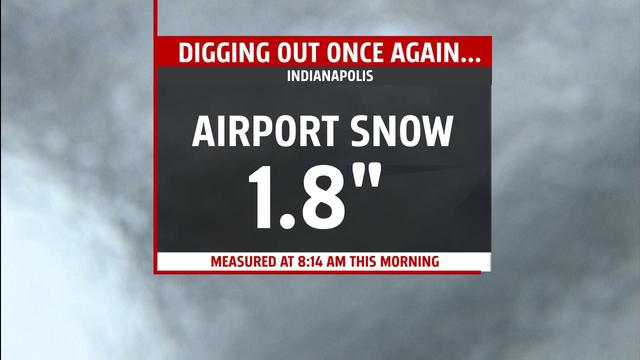 More snow overnight has brought our monthly total of snow so far above the amount we normally expect to see for the year.  More snow is heading our way with another small brief round of snow expected for tonight and another even smaller round of snow expected for Monday morning.  At this point the big story over the next couple of days will likely be the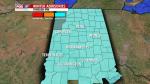 frigid cold.  Expect a slew of schools to delay or possibly even cancel classes due to the cold.
Overnight snow:  Officially the Indianapolis airport recorded 1.8 inches of snow.  Nearly everyone is falling in line with the 1 – 3 inches of snow we were expecting.  Radar indicates places to the west of Indianapolis likely saw the most snow falling.  Strong winds including gusts over 30mph also didn't help matters with blowing snow being pushed back across roadways.  These strong winds and a lagging cold front have pushed the winter weather advisory expiration back to 1pm instead of 10am.
Sunday:  Most Sunday snow will fall north of Indianapolis.  The latest model numbers push the snow time back to mid-morning.  At this point it looks like we could see upwards of two inches in the city with higher totals to our north through the day.  Slick roads will once again become a problem.  These problems may extend to the Monday morning rush hour as another brief round of light snow will be expected.
Bitter Cold:  At the first of the year we had more than 24 hours straight with temperatures below 0° and we could be looking at matching or beating that number from Monday through Wednesday.  Highs on Tuesday are only forecast to hit 0 with temperatures as cold as 15 below to start the day.  Wednesday highs will also be extremely cold.