This is an archived article and the information in the article may be outdated. Please look at the time stamp on the story to see when it was last updated.
MORE SNOW TONIGHT
A WET SNOW WILL SPREAD NORTHEAST Thursday evening as warmer air pushes into the state.  A brief period of wet snow could accumulate up to 1" I some locations especial over the southern third of the state.  Locations from southwest Indiana to east central Indiana have the highest potential of seeing the accumulation.  Snow will ease after 12 AM.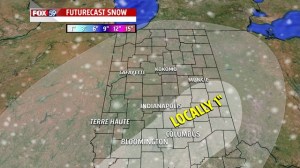 WARMER NIGHT
Slushy snow accumulation is a sign of warmer air coming our way.  As the snow moves off the warmer air moves in overnight.  Damp conditions will prevail overnight with fog and haze.  With forecast temperatures likely to hold at or just below freezing, some light freezing drizzle will occur through the early morning hours Friday.  Be careful, icy spots are possible again overnight and early Friday.  Ice accumulation is expected to be light.
MORE RAIN AND POSSIBLE FLOODING
Rain returns later Friday.  Rainfall earlier in the week looked to be rather heavy for Saturday but we continue to refine the forecast and a trend for less rainfall and a faster moving system has developed.  Rainfall amounts are still rather healthy – with a 7 model average of .63".  The range is .34" to .86".  We are liking the trend to lesser rainfall amounts and a quicker departure of this system so the prospects of flooding may be limited to low-lying and poor drainage locations.  Rivers and streams are likely to move to minor to moderate flood levels downstate starting Saturday over southern Indiana.  We will monitor.
SPACE WEATHER
An intense solar flare observed Wednesday evening is expected to cause strong geomagnetic storming Thursday into Friday.  Rated a G 3 this brings the Northern Lights south and could be visible as far south as northern Illinois and Indiana but unfortunately cloud cover will hinder any potential viewing here.