This is an archived article and the information in the article may be outdated. Please look at the time stamp on the story to see when it was last updated.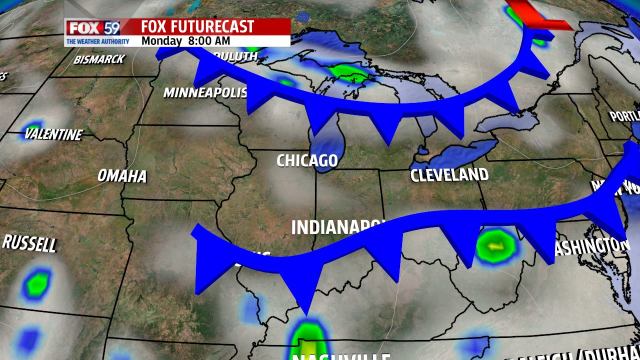 Expect a nice day ahead today with only a small chance for rain later on tonight as another front rolls through.  It's this series of fronts both today and on Tuesday that will keep a low chance for rain in the forecast.  After that a dry pattern will settle in for the weekend.
Today's going to be a nice day overall once the fog burns off with highs in the mid-80s.  Winds will be out of the west at 5 – 10 miles per hour.  Skies will be clear at times in the middle of the day with us clouding up as we head into the evening hours,
Tuesday rain will also be a possibility but like today will only be isolated in nature.  Tuesday highs will be in the mid to low 80s.  There will be another isolated chance for rain as another front slides through during the afternoon.  Much cooler weather will set up behind this front with morning lows falling from a low of 67 tonight to some places falling to the mid-50s on Wednesday morning.  I think Indianapolis' low will fall to 60 degrees.   Highs on Tuesday will be three to five degrees warmer than highs on Wednesday.  The air will be crisp and conditions outside will be very comfortable.
Temperatures will surge heading into the weekend with the possibility of 90s on Saturday and Sunday in some communities.  Last year, through June, we had 15 days at or above 90 degrees.  This year we haven't had our first so far…